Crister Blüme has achieved something most of us only ever dream of – turning a hobby into a full time job. Back in 2003 Christer left a career in IT, took up a position with a local tourism development agency and started developing outdoor events in West Sweden and Dalsland, where he grew up. Being a fitness fanatic nd nature lover – his new profession fitted like a glove.
- My background is in IT where I worked in product development. However, the local tourism agency in Bengstfors, where I live, asked me for some ideas about developing a canoeing competition for the Dalsland canal.
After a great deal of thought, research and head-scratching Crister presented his idea: the Dalsland Canoe Marathon (DKM+) was born. Soon after Crister was employed as a project manager with the agency and has been there ever since. At 55km-long, the Dalsland Canoe Marathon is the biggest canoeing event in the Nordic region. Held in August each year the competition attracts several hundred competitors, from 'happy paddlers' to elite level canoeists.
- The majority of competitors are from overseas, Crister points out.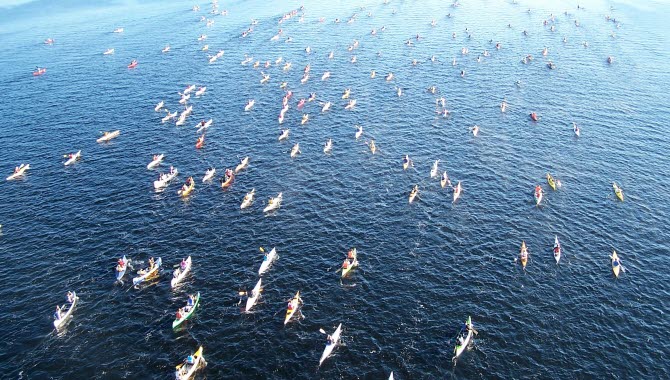 Photographer: Thomas Wallin
Since the idea of the DKM+ was born, Crister and Camp Dalsland Association (organisers of DKM+) have together developed three large competitions; Dalsland X-Country, first run in 2009 and now one of Sweden's big ten mountainbike competitions. 2012 saw the first edition of trail run Dalsland X-Trail, in which competitors run the trail along the Dalsland canal. And this year saw the test run of Dalsland Swimrun and, as the name suggests, it combines trail running and open water swimming. The test run went well and the race will be held for the first time in 2018. So, what's the recipe behind the success of these ventures?
- I usually say that you need good ingredients and we have those in Dalsland: our countryside and a unique landscape are the ingredients I am referring to. In West Sweden and in Dalsland we have fantastic waterways, beautiful woodlands and peaks offering unbelievable views. There are many micro details that we manage successfully and, taken together, these add up to a producing successful ventures. I would also mention the help we get from the locals; there are 500 volunteers involved in our events each year and their work is invaluable.
So what about turning a hobby into an occupation? How does that work? Does the hobby get less enjoyable or vice-versa? Crister has no doubts:
- I train and compete more than ever. I take part in some competitor events and analyse what they are doing better than we are and get inspired. New impressions are always useful.
Three recommendations on what to do in Dalsland:
Paddling on Stenebyälven river: 'A good mix of relaxing and some adventurous paddling.'


Hill trails for mountain-biking: 'We have an incredible number of good hill trails for mountain-biking. Get a little creative and download some good maps and discover the region.'


Gammelgårdens Open-air museum: 'This is Dalsland's equivalent to Skansen in Stockholm. There are a number of historic houses and building that have been moved here from different locations in Dalsland. They are located at Majberget hill and from here you get fabulous views of Bengtsfors.
Go back to: westsweden.com/72hcabin
Go to: visitsweden.com/72hcabin