Diagnosis: A serial entrepreneur
There is a huge range of activities run at Dalslands Aktiviteter activity centre. The centre is located at Steneby vicarage in the heart of Dalsland and tourists have been coming here since 1993. The activities include ziplining, high-rope courses, a moose safari, air-gun shooting, beer and whisky tasting, paddling, raft-building, panning for gold – you guessed it – it's a long list.
Kjell Johansson started the company back in 1993 and in 2018 it will celebrate its 25th year in business. The company is now headed by son Pontus, but Kjell is still very involved in Dalslands Aktiviteter.
- You could say that I am a serial entrepreneur and I am just having too much fun to retire' he says laughing.
Kjell is currently working on developing more products for the Chinese tourism market. Like many tourism operators and attractions in West Sweden visitor numbers from China are on the rise and it is exactly this type of project that Kjell enjoys.
- Things that we might take for granted can really appeal to this target group. For example, we had a family from Singapore visiting us and they helped us make a fire. They had travelled around the world but were ecstatic when they got to do this. It's the same when we take Chinese guests out to pick mushrooms. They look on it as an exclusive activity and it's fun for us to be their guide.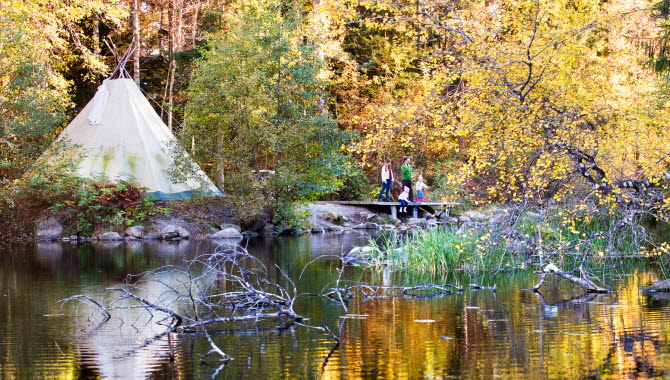 Photographer: Roger Borgelid
The contrast between life in the city and life in Dalsland could not be starker. The county has a relatively small population spread out across a very large area and people look out for each other here explains Kjell.
- Your typical Dalslander is a bit reserved but very loyal. If you make friends with a Dalslander it is probably for life. I get the impression that people are anonymous in large cities, but here in the countryside things are different and we lend each other a hand.
Three recommendations on what to do in Dalsland
Walk the nature trail along the Stenebyälven river: 'It is a 1.1 km walkway made entirely of wood and adapted for the physically impaired. You can get prams and wheelchairs all the way down to the water.'


The aqueduct at Håverud: 'A fantastic place if you are interested in infrastructure.'


Trestiklan Nationalpark: 'Varied natural surrounds with mountains and hill trails that cater to all abilities.'
Go back to: westsweden.com/72hcabin
Go to: visitsweden.com/72hcabin