Eat well and feel well at Falkholts Dalslandskrog
Following a 17-year tenure at Baldersnäs Herrgård mansion and estate, restauranteur couple Carin and Christer Falkholt started a new restaurant in an old school building in the village of Norebyn in Dalsland. The name of the restaurant is Falkholts Dalslandskrog and for over 20 years they have been serving up local produce here – all of it gluten and additives-free.
Carin is from the city of Uppsala, near Stockholm, while Christer comes from Halmstad, a city in the southwest of Sweden. Their paths met in Gothenburg in the 1970s when Carin was working as a garde manger and waitress and Christer as a chef. They fell in love and in 1978 they took over Baldersnäs Herrgård mansion and estate and moved with all their worldly possessions to Dalsland in West Sweden.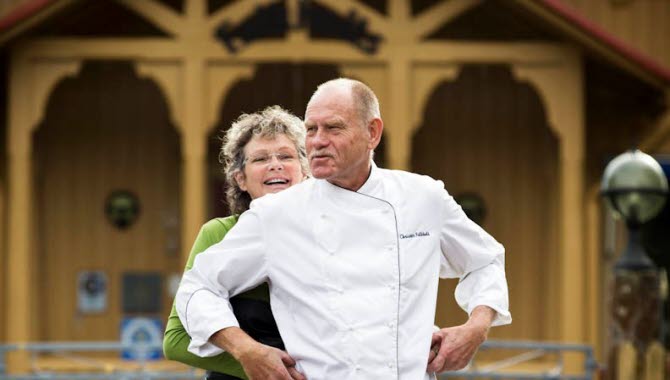 - Moving to the countryside was just wonderful and the move to Dalsland allowed us to bring up our children Patrik, Carolina, Charlotta and Klara with nature all around them. It's a big plus that, any time we feel like it, we can go out and barbecue, hunt and forage, says Carin.
In 1995 the couple spotted the old school building in the village and in 1996 they took the next big step in their lives and careers when it became the venue for Falkholts Dalslandskrog restaurant.
Local produce – additives-free
A leitmotif for Carin and Christer through their years at Baldersnäs, and now at the new restaurant, is that it only serves local produce that is additives-free. The couple have developed their artisanship and some years ago Carin learned about what is known as macrobiotics – a Japanese philosophy that promotes health and vitality through the food we consume, from a physical, mental and emotional perspective.
- I have experienced gluten intolerance my entire life and from a young age I read every single word of the ingredients on food packaging to see what I was really eating. Combing this with Christer' rigorous restaurant training and background, it seemed obvious to us that we would only serve local, additives-free produce.
The menu at Falkholts Dalslandskrog is seasonal and what the couple can source, is what ends up on the plate. Game from Dalsland, especially moose, is very popular, as is the pike and burbot from the nearby lakes.
- We have been serving a lot of burbot and though hardly any of our guests can identify what fish it is, it is delicious, says Carin.
Three recommendations on what to do in Dalsland according to Carin
Baldersnäs Herrgård: 'Even though I spent 17 years of my life there I still think it is absolutely beautiful and I can warmly recommend a walk around the whole peninsula, stopping off for a picnic'.
Tresticklans National Park: 'It is a fabulous national park that is on the border with Norway. You can walk out of the EU here and then just a couple of hours later, walk back in again.'
Dalslands Konstmuseum: 'Dalsland is known in Sweden for its many artists and arts education programmes. This art museum is a great destination and a reason to come to Dalsland. It is also set in a beautiful location.'


Go back to: westsweden.com/72hcabin
Go to: visitsweden.com/72hcabin