Glass cabins - this way please
Dalsland scenery is big, wild and beautiful. There are endless opportunities for unforgettable experiences in its deep forests, mountains, fertile plains and dozens of lakes and islands. With this background, it should come as no surprise that Dalsland is the location of the health-promoting glass house project called The 72 hour Cabin.
The results of the joint venture launched in September 2017 by West Sweden Tourist Board and Visit Sweden, The 72 hour Cabin, bear witness to its huge success. The five international participants' stress levels dropped by as much as 70%, their blood pressure decreased, anxiety levels were reduced and creativity and problem-solving skills were boosted after spending 72 hours in the glass houses.
As a result, these cabins are now available to everyone who wants to achieve peace of mind in the Dalsland wilderness. More glass cabins have been built in several locations ready for 2018. These new cabins are also designed by Jeanna Berger and have all the characteristics of Swedish design: simple, functional and the use of natural materials.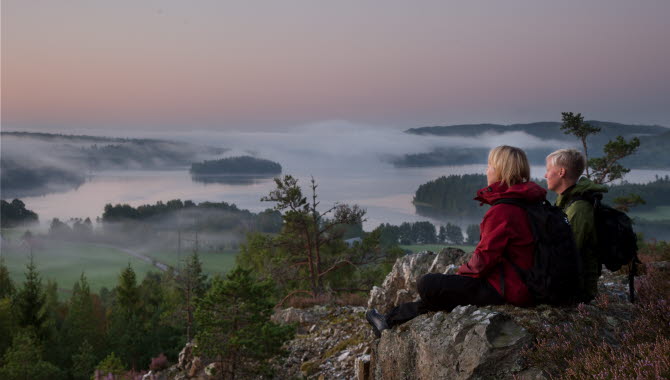 Photographer: Lasse Forsberg

Glass cabins on Henriksholm, Ånimskog
The five original glass cabins are in a beautiful location on the privately owned island of Henriksholm, in south-east Dalsland. With its long shape and varied landscapes, Henriksholm is almost a miniature of Sweden. It has mountains, forests and meadows full of wildlife, including deer, foxes and the rare white-backed woodpecker. Perch pike, eel, burbot and bream are among the many species of fish found in the rift-valley lake of Ånimmen, which surrounds the island. Fishing rods and access to a rowing boat, as well as tips for exciting walks, are included when you stay in one of the glass cabins on Henriksholm.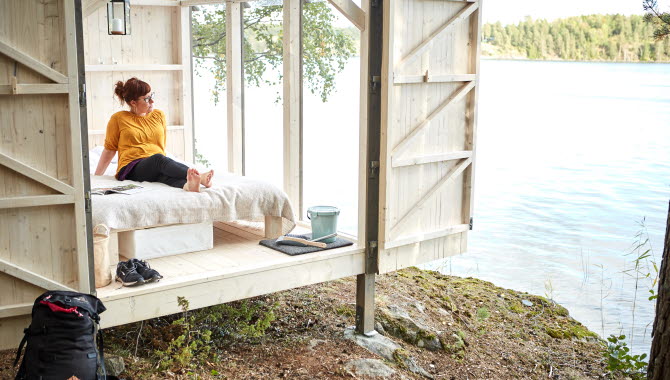 Photographer: Jonas Ingman @ Bruksbild

Glass cabins by Baldersnäs Manor, Dals Långed
The grand turn-of-the-century manor house at Baldersnäs is located on a lush peninsula in Laxsjön, not far from Dals Långed. There are two glass cabins on hills with magnificent views of the lake in a lush, secluded part of the English-style park. The manor restaurant, Öjentorps Kök, is certified by A Taste of West Sweden and serves high-quality cuisine inspired by the Dalsland wilderness. The nearby lakeside sauna invites you to wind down and relax.
Photographer: Jonas Ingman
Glass cabins by Dalsland Activities, Dals Långed
The glass cabins by Dalsland Activities are located right next to lake Iväg, not far from Dals Långed, in the heart of Dalsland. As well as making the most of the peaceful setting and magnificent views of lake and forest, there are many activities you can book and take part in. For example, you can try out kayaking or panning for gold in Stenebyälven; take a tour on horseback or a visit the moose park and meet the "king of the forest". You can also go on a guided tour of the forest and learn to follow animal tracks, start a fire without matches and try your hand at the noble art of archery.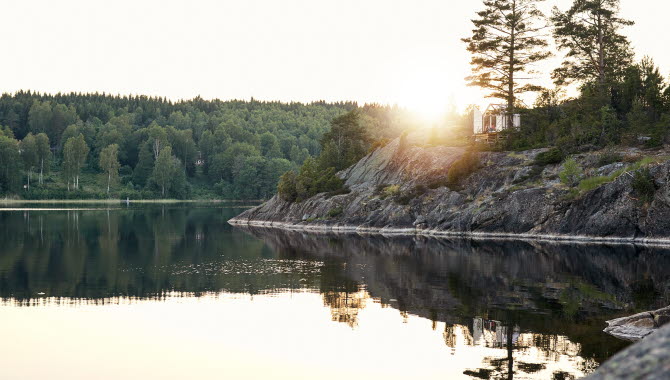 Photographer: Jonas Ingman
Book your stay today!
Dalsland really is a place for all your senses. Come here to go walking, cycling, canoeing, climbing, riding, fishing, pick mushrooms, eat good food or just enjoy total silence. And unwind, of course. Shake off your stress and everyday demands, leave them behind in the wilderness of Dalsland. Book a glass house and relax.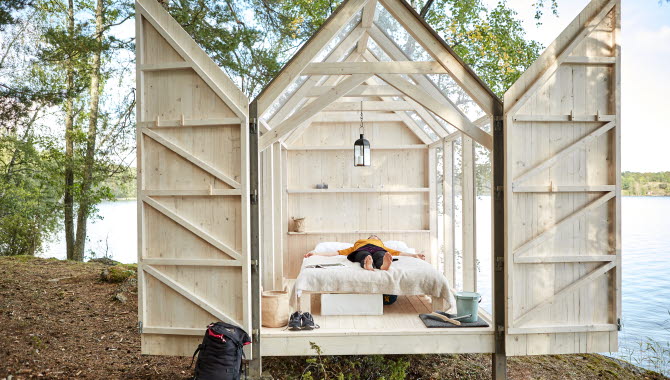 Photographer: Jonas Ingman @ Bruksbild