Visitor gardens, shopping and cultural experiences in the Borås area
Use the map to travel between Gothenburg and Borås and be inspired by beautiful visitor gardens, cosy accommodation, textile shopping, locally produced delicacies, and the exciting cultural history of this area. Let's go!
If you set out on a journey around West Sweden's magnificent visitor gardens you'll get a lot more than just floral splendour, well maintained borders, and garden cafes. Your trip will be through the Borås region's beautiful historic landscapes, past its textile centres and exciting destinations. Enjoy home baked fika and great meals made with fresh, seasonal ingredients. If you want to buy textiles and designer crafts there's an excellent choice of shops and outlets. Stay in a guesthouse, a mill, or a mansion. And decide which direction you want to travel yourselves!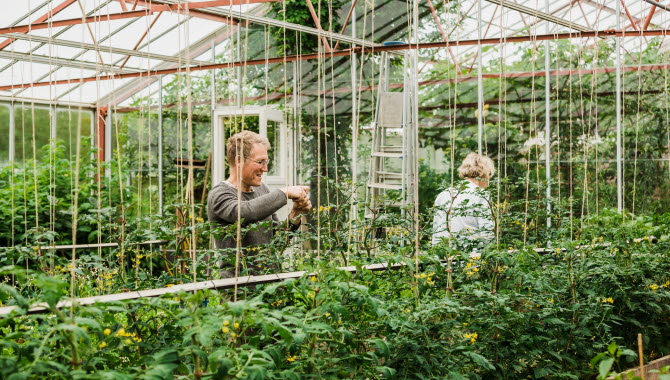 Photographer: Monika Manowska
Gardens
1. Björnhyltans Garden, Ambjörnarp
Pretty dry stone walls surround the fields where the vegetables are grown in Björnhyltans Garden. Enjoy the atmosphere in the "Room for Life" glasshouse and smell the delicious scents in the herb garden and flower borders. Buy seasonal vegetables in the garden shop and let the planting and exhibitions inspire you.
2. Nyhagens Garden and Nursery, Berghem
Nyhagens Garden and Nursery is in a lovely rural setting in Berghem, about 40 km south of Borås. Be inspired and find your gardening mojo among our lovely magnolias and perennials, bushes and trees, as well as decorative garden ceramics.
3. Sammels Farm, Bertshult
In the quiet countryside around Bertshult, just 25 minutes by car from Gothenburg, you can explore Sammels large visitor garden. Buy plants, visit the popular beehives, and enjoy a rustic fika in the greenhouse café.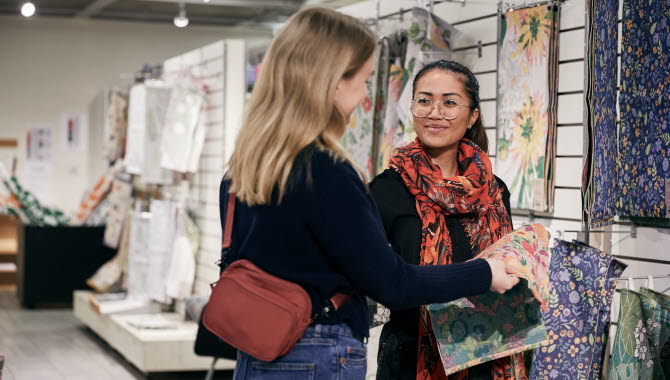 Photographer: Jonas Ingman
Shopping
4. Ekelunds Linen Mill, Horred
Sweden's oldest linen weaving mill, established in 1692. Mill tours, factory shop, museum and café.
5. Kasthall Factory Shop, Kinna
The weaving mill was established in Kinna as long ago as 1889 and in the shop you can buy internationally renowned quality rugs at outlet prices.
6. Gällstads Shopping Village, Gällstad
In Gällstads little shopping village you can find top international clothing brands and exciting start-ups at knockdown prices.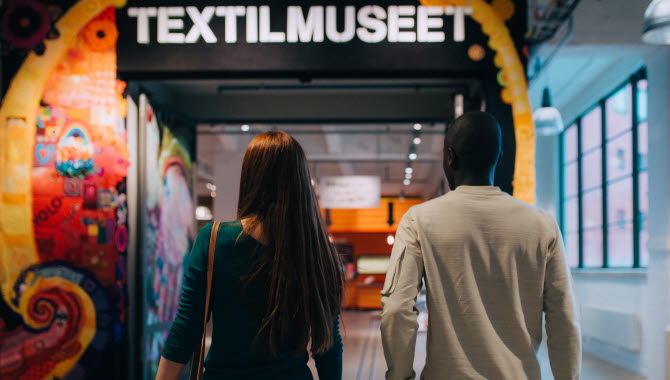 Photographer: Faramarz - Textilmuseet i Borås
Attractions
7. Glasets Hus, Limmared
Glasets Hus – the House of Glass – the name says it all! Glassworks with its own glass production, have a go at glass-blowing, museum, shop and cafe.
8. No Limit Street Art, Borås
No Limit Street Art invites you to see the town as a gallery. Building walls have been used as blank canvases by artists from around the world since 2014.
9. Rydals Museum, Rydal/Kinna
In Sweden's oldest working spinning mill you can see the spinning machines working and enjoy exhibitions about the history of the mill.
10. Torpa Stenhus, Länghem
15th century estate by Lake Åsunden offering guided castle tours, theatre, café and restaurant. Medieval Days fill Torpa with jesters, knights and craftspeople.
11. Textilmuseet, Borås
Scandinavia's leading Textile Museum, with exhibitions and workshops on fashion and art, and the textile industry's history and future. Restaurant and café.
12. ISA af Lygnern, Sätila/Mark
Cast off from Europe's longest oak jetty and enjoy Lake Lygnern's magnificent surroundings. Go on a fun themed trip or a pleasant evening cruise aboard the historic boat ISA af Lygnern.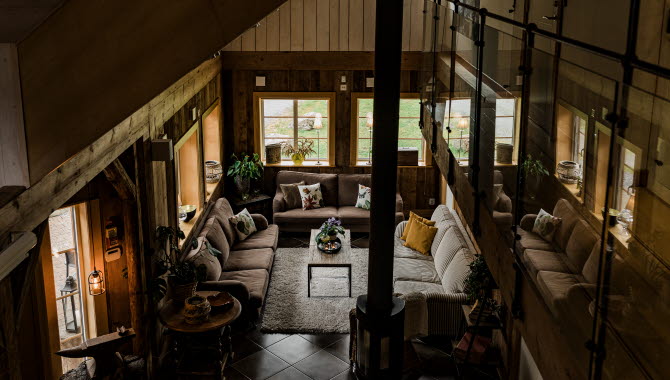 Photographer: Monika Manowska - Kvarnen i Hyssna
Accommodation
13. Hofsnäs Herrgård, Länghem
The beautiful manor house of Hofsnäs Herrgård, in the Torpanäset nature reserve, offers peaceful accommodation and dining featuring locally sourced food. Add more to your experience by going hiking, cycling, or fishing.
14. Kvarnen i Hyssna, Hyssna
This former village smithy and mill is today a modern hotel next to the Hyssna nature reserve. The restaurant serves locally produced food and guided tours are offered of the mill area.
15. Lydde Gård, Kinna
A renovated yarn merchant's villa is now an organic hotel in the countryside, close to lakes, museums and a golf course. Organic and Fairtrade breakfast, and honey from our own bees.
16. Sju Sjöar, Öxnevalla
Sju Sjöar, meaning seven lakes, is a hotel set in beautiful countryside with a certified restaurant offering sustainable and locally produced food experiences. Conference, train, hike, fish and relax in a wood fired hot tub.
17. Två Skyttlar, Örby/Mark
Beautifully situated hotel and conference venue with a turn of the century dining room, serving locally produced food. Lakeside lodge for weddings, parties and business events.
18. Pensionat Kajutan, Sätila/Mark
Stay next to Lake Lygnern in the lovely countryside around Sätila. Hiking trails, cycling packages and boat trips just around the corner. Spa, conference facilities and restaurant.
Other restaurants and cafes
19. Köksträdgården, Lockryd
Köksträdgården (The Kitchen Garden) is West Sweden's first Taste of West Sweden certified roadside restaurant. Excellent freshly made food is served here using organic and local ingredients.