Island-hopping and walking in Bohuslän's southern archipelago
Experience the southern stretches of the Bohuslän archipelago like never before. In just three days you can get your fill of world class art on Tjörn, winding walking trails on the car free island of Dyrön and around the turn of the century seaside town of Marstrand. Bohuslän never leaves you wishing for more!
Remember that the choice of activities, and opening times of restaurants, shops and hotels vary over the year. Check the companies' own websites for current information.
Day 1 – Tjörn: a delightful mix of art, nature and good food
Tjörn is easy to reach by bus from Gothenburg. It's Sweden's seventh largest island and has diverse landscapes perfect for a wide variety of experiences. From high hills, pine forests and oak groves to tranquil sandy bays and wild seas – Tjörn has scenery to please everyone, as well as scenic walking trails and viewpoints well worth a visit.
A network of bike trails and routes links together the communities of Klädesholmen and Rönnäng in the south west to the main towns of Skärhamn and Kyrkesund in the north west.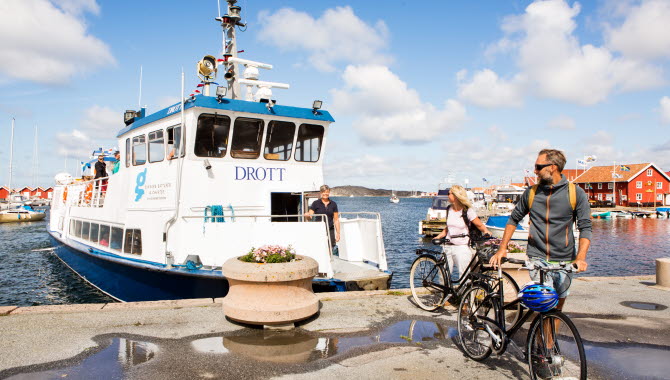 Photographer: Roger Borgelid
Tjörn is truly a destination to recommend for art lovers. Both the Nordic Watercolour Museum in Skärhamn and Sculpture in Pilane have attracted international acclaim. Pilane is open from May to September, and the exhibition is updated with new work each year. In 2019 it was decided that the sculpture park's most famous artwork, the 14 metre high ANNA, created by the Spanish artist Jaume Plensa, will remain permanently on Tjörn. ANNA has been there for a few years now and will remain, but will get new sculpture around her every year.
The stretch between these two attractions is also now known as the "world's sweatiest art tour". You can find out more about how to participate in this unique combination of walking, cycling and art, and why it takes place on Tjörn, here. Cycle, run or walk – it's up to you!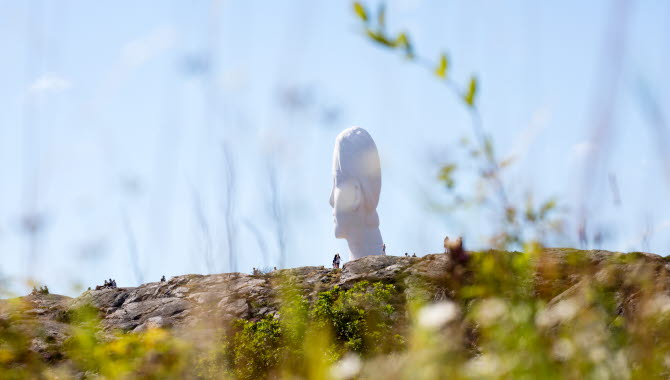 Photographer: Roger Borgelid
You can choose to stay in Skärhamn or at one of the nearby communities of Rönnäng or Klädesholmen. You might want to spend the night at the floating Salt & Sill hotel on Klädesholmen, where you can also enjoy fish and seafood that's truly sublime. Find accommodation on Tjörn here.
Would you like to eat at restaurants with local character that love working with West Swedish produce? If so, apart from the aforementioned Salt & Sill we can also recommend a visit to sourdough bakery Lottas Bak & Form. Both are members of A Taste of West Sweden – which guarantees the highest quality and serves as a guide to the best dining experiences in West Sweden.
Day 2 – Ferry trip and walking on Dyrön
The 361 ferry service runs several times a day all year round from Rönnäng to Tjörn's crown jewels, the car-free islands of Dyrön and Åstol. These islands are lively neighbours with different characters. Dyrön is larger and has mouflon sheep roaming free, hiking trails and a sauna, which has been awarded Sweden's best electric heated sauna – mostly thanks to its fantastic position 10 metres from the water with a fantastic view of the archipelago. Åstol is a rugged, rocky island which the houses cling tightly to.
The five-kilometre-long walking trail on Dyrön winds through diverse countryside. The trail is rocky, with steps, bridges and handrails and a breathtaking view over the Marstrand fjord. Along the trail there are information boards and viewpoints with tables and benches. If you are lucky you may come across some mouflon sheep, which live wild on the island. Combine your walk with a sauna with fantastic views over the sea. You can book the sauna at dyron.se
ICA Dyröboden is a lovely little well stocked supermarket, with a cafe serving lunch all year round. If you want to add a touch of luxury to your sauna experience you can order something tasty from the shop to be delivered to the sauna.
Don't miss a visit to the newly built studio and workshop of gold and silver smith Tintin Hallding. It's just a short walk from Dyrön's north harbour. You'll find more tips on what to do, eat and where to stay on Dyrön here.
Day 3 – the turn-of-the-century town of Marstrand
Marstrand is about 60 to 90 minutes by ferry and bus from Dyrön. From Dyrön's south harbour take the Västtrafik 326 ferry service to the Rökan stop. Bear in mind that some departures have to be booked in advance. From there take the Marstrand Express bus to Marstrand's ferry landing.
The small turn-of-the-century town of Marstrand is on one of the outermost islands, at the very end of the road. Martstrand stretches over two islands, Koön and Marstrand island, of which the latter is the one that is most often referred to. The car-free cobbled streets wind past charming turn-of-the-century houses in pastel colours, with lovely gardens. Overlooking them is Carlsten Fortress, a well-preserved, majestic and fascinating stronghold that offers fantastic views.
The island once held a key defensive role in Scandinavia. Today, it is a magical place not to be missed. You'll find restaurants as well as culture and peace and quiet, depending on what time of year you visit the island.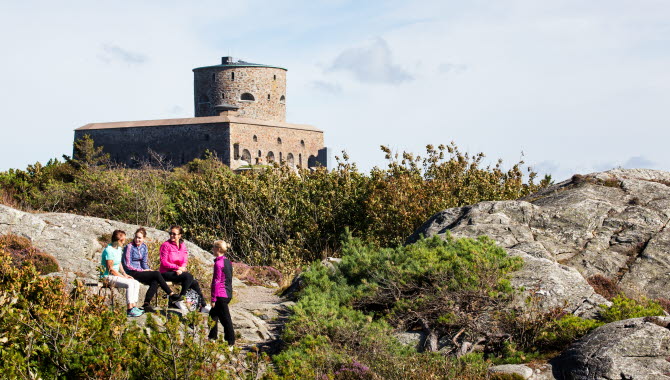 Photographer: Roger Borgelid
When you get hungry you'll find plenty of choice here. Inside the historic Grand Hotel Marstrand is Restaurang Tenan, which serves popular classics such as Fillet of Beef Africana and the restaurant's own crayfish gratin with a hint of garlic. The restaurant is ranked among the best in Sweden in the White Guide and is accredited by A Taste of Sweden. Swedish cuisine takes pride of place at Ottos Kök and a visit to Bergs Konditori bakery and café is a must! You can find more tips on where to eat and drink well on Marstrand here.
Another thing Marstrand is well known for are the great walking opportunities. Make sure you take a trip out to Skallen lighthouse, where you'll get a perfect view of the place where two seas - Skagerack and Kattegatt – meet each other. Captivating is putting it lightly! On Koön there are several well marked walking trails, graded according to difficulty so that you can adapt the tour to your own ability. Why not take a packed lunch to enjoy at one of the many picnic areas you'll find here.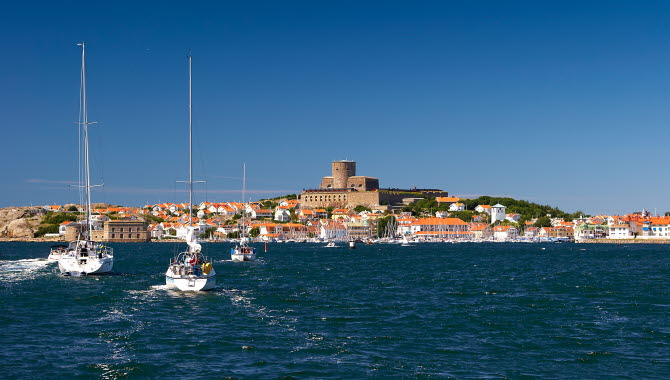 Photographer: Jonas Ingman
After a day walking and lots to take in it could be nice to finish with a spa day at Marstrands Havshotell. You can wind down in their sea water spa, or check into one of the other accommodation options on Marstrand.
When you have finished exploring you can return to Gothenburg by road on the Marstrand Express from the bus stop at the ferry landing on Koön.
For all boat routes in Bohuslän:
Find your island-hops
Bohuslän's archipelago is something special. To help you get a really genuine archipelago experience we've put together both ferry companies and route suggestions that will make your island hops happen.