Island hopping – Discovering the archipelago without your own boat
Island-hopping is the perfect way of discovering the Bohuslän archipelago. Spend a couple of fantastic days among the smooth granite rock isles and coves and stay at one of the many hotels and hostels on the islands. Or why not take a day trip to an island of your choice? The best thing about island-hopping is that you decide where you want to go and what you want to do; the choice is all yours.
The West Sweden archipelago stretches from the island of Vrångö in the south, just outside Gothenburg, to the Koster islands in the north, that lie off the town of Strömstad. There is a choice of ferry and boat lines that you can hop on and off at will to create your own island-hopping dream holiday. To help you out we have created some of our own routes. These range from relaxing day trips to nearby islands, to five-day, activity-packed trips to the islands of Marstrand, Klädesholmen and Mollösund. Here is a route map of the west coast and information about some of the wonderful islands and coastal towns and villages.
On all of these island-hopping trips you can experience the magic of the islands; the smooth, pink granite rock, blazing sunsets, virgin bathing spots and fantastic land and seascapes. No wonder CNN Travel ranked the Bohuslän archipelago as the 7th most beautiful wilderness area in the world.
Discover the islands by bicycle
Bring your own bicycle, or rent one while you are here. On many of the islands there are excellent cycle paths and some of the islands are car-free. Getting around by bicycle lets you discover more and you can plan your cycling trips between the ferry terminals.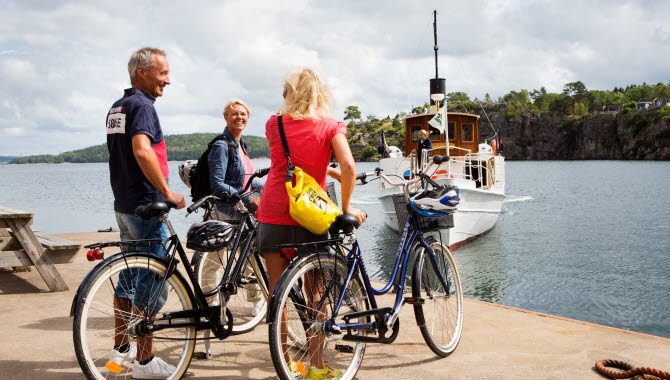 Photographer: Roger Borgelid