Island hopping in Bohuslän, a day trip with walking and a sauna on Dyrön
The small size of Dyrön is also its greatest appeal, since everything is within walking distance. You can walk, go for a swim, enjoy a coffee and a bite to eat or look out for mouflon sheep.
Take the boat to Dyrön all year round
It's easy to take a day trip from central Gothenburg to the lively island of Dyrön. Hop on the morning bus from the city towards Marstrand and get off at the Rökan stop. Then take the boat to the south harbour on Dyrön – a total journey of one hour and forty minutes.
Walking trail and sauna with views over Marstrand fjord
A walk around Dyrön is a relaxing way to spend the day. If you want to enjoy the fantastic view you should look for the five-kilometre-long trail that runs across the island, it is moderately steep in places, so you need to be reasonably fit and wear good shoes. The view over Marstrand fjord is breathtaking, and along the trail there are information boards that tell you everything you need to know, as well as viewpoints, tables for a coffee break and benches where you can catch your breath. If you are lucky you may see some of the 50–60 wild mouflon sheep that live on the island. Mouflon are said to be the ancestors of domesticated sheep. On Dyrön they live wild in the forest and hills.
Combine your walk with a sauna. Just ten metres from the sea at the south tip of Dyrön is a sauna that was voted the best electric sauna in Sweden a few years ago. This is largely thanks to its tranquil location and views over the sea and rocks. The sauna is run by the community association and can be booked all year round online.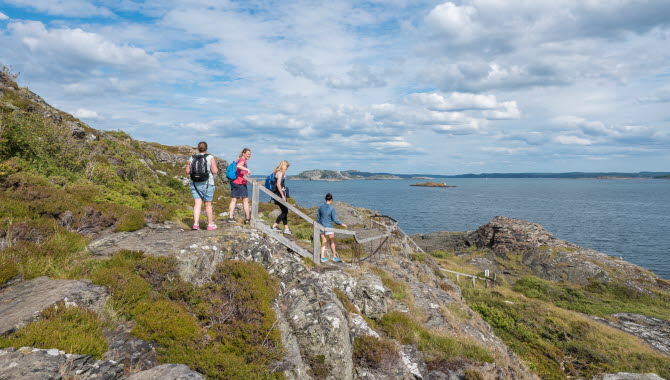 Photographer: Anders Jonsson
Close to the trail, just a couple of hundred metres from the north harbour, is the studio of Dyrön's own gold and silver smith, Tintin Hallding. Tintin can usually be found here, busy creating beautiful jewellery and interior accessories. You can take a look inside and browse among her wonderful selection.
Enjoy a coffee or a bite to eat
Inside the island's small, well-stocked grocery store, ICA Dyröboden, is a café that serves lunches and is open every day, all year round. You can choose whether to eat in or order something good from the store and get it delivered to the sauna.
In the afternoon the boat returns to the Rökan stop where connecting buses will take you south toward Gothenburg or west towards Marstrand. If you prefer to head back via Tjörn, a ferry runs from the north harbour on Dyrön to Rönnäng, where you can hop on a bus to Gothenburg.
Stay a night or two
Would you like to wake up to the cries of the gulls, the smell of sea air and panoramic sea views? You can find a selection of nearby accommodation here.