The world's sweatiest art tour
On Tjörn we love art, culture and nature. Which is why we mix them together to make the World's Sweatiest Art Trail. Get hot and sweaty by cycling, running or walking along winding paths between art at the Nordic Watercolour Museum and the picturesque setting of Pilane Sculpture Park.
From the Nordic Watercolour Museum, with its architectural splendour and setting by the sea in Skärhamn, through windswept pine woods and winding forest paths, to the salt meadows where sheep graze. Here lies Pilane – one of Sweden's most beautiful ancient landscapes, with remains from the Stone Age. The views of the archipelago from there extend for miles – from Carlsten's Fortress and the Pater Noster lighthouse in the south, to Måseskär lighthouse in the north. During summer exciting and thought provoking art by some of the world's leading artists is exhibited here.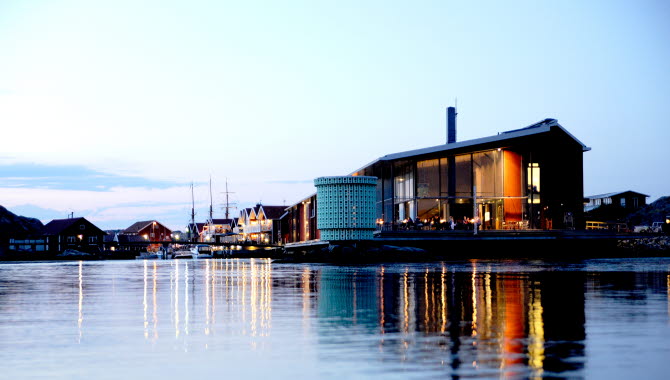 Photographer: Nordiska akvarellmuseet
The Nordic Watercolour Museum – part of the world's sweatiest art tour
The Nordic Watercolour Museum, stunningly located by the sea in Skärhamn, fosters an atmosphere of clarity and creativity.
Since its opening in 2000, the Nordic Watercolour Museum has exhibited world-class art, including works by Salvador Dali, Bill Viola, Louise Bourgeois, and by Swedish favourites such as Elsa Beskow, Anders Zorn and Lars Lerin.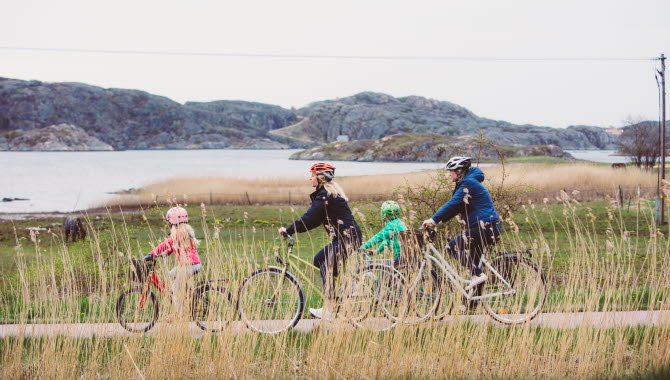 Photographer: Katja Ragnstam
Sculpture at Pilane – also part of the world's sweatiest art tour
Sculpture at Pilane is a totally unique, exciting and unusual art experience. Whenever you're visiting the beautiful, historical countryside of Bohuslän you're in for something unforgettable. Because where else in the world can you enjoy fun, exciting and thought-provoking art, created by some of the world's foremost artists, alongside grazing sheep and Iron Age stone circles.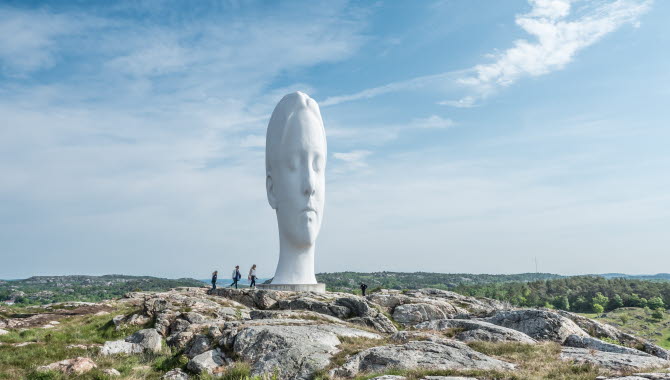 Photographer: Anders Jonsson, Södra Bohuslän Turism
In previous years, artists including Tony Cragg, Laura Ford, Maria Miesenberger, Bernar Venet and Katrine Helmersson have exhibited their sculptures. On top of the hill stands one of the world's largest and most beautiful sculptures – Jaume Plensa's 14-metre tall ANNA.
Walk, run or bike part of the world's sweatiest art tour
The section of road between the Nordic Watercolour Museum in Skärhamn and Skulptur at Pilane is signposted. So whether you walk, run or ride a bike, finding your way is easy.
From the museum and the quay in the coastal community of Skärhamn, you can walk, run or bicycle through charming streets, past fishing boats and boat sheds. Leaving the village, one of Sweden's most beautiful cultural landscapes opens up. Along winding trails, the tour continues through wind-blown pine forests before arriving at a paradise of coastal meadows.
Among granite expanses, stone-age graves and free-ranging sheep is Skulptur i Pilane.
The route is well signed, and a map is available, so you can do your own sweaty art tour whenever you like, any time of the year.