Food experiences with a difference, worth a visit
We west Swedes absolutely adore good food. There are restaurants here where you'll really get to taste the best from west Sweden's seas, forests and plains. But there are also some unusual experiences to be had, where dinner will be something above and beyond the ordinary. Here we suggest four such experiences.
How do you cook seaweed? Is it difficult to open an oyster? What does it mean that a beer is unfiltered? What does bison actually taste like?
We're not going to give you all the answers here and now, but we'll hopefully inspire you enough to make you want to go out there and experience some of the adventures behind really good food. Enjoy your reading!
Can you really eat seaweed?
Our first tip is perhaps the one that most differs from what we ordinarily put on our dinner tables. Linnéa Sjögren and Jonas Pettersson run Catxalot in the small coastal community of Havstenssund, on the northernmost edge of the west coast. Linnéa's passion for food and Jonas' obsession with the sea, coupled with a shared curiosity, led the pair to begin working with seaweed in 2014 – then an almost completely unexplored food in Sweden.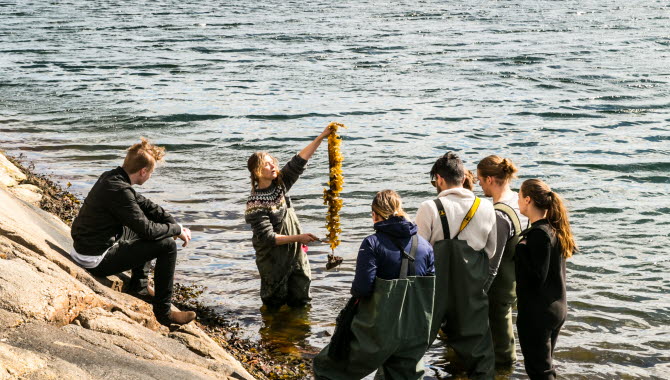 Photographer: Madeleine Landley
Catxalot has a seaweed shop and offers a variety of activities, including a seaweed safari along the cliffs, cooking courses, seaweed paddling, snorkelling, workshops and tastings. The shared theme is that you get to learn more about different types of seaweed and about how to pick and cook these delicacies. There are no poisonous varieties of seaweed in Sweden, but some taste much better than others.
Could seaweed be the food of the future? Well, why not? It grows along much of the coast, it's a plant, and doesn't need to be cultivated. Besides the good flavour and consistency that seaweed contributes to food, it's also pretty in dishes.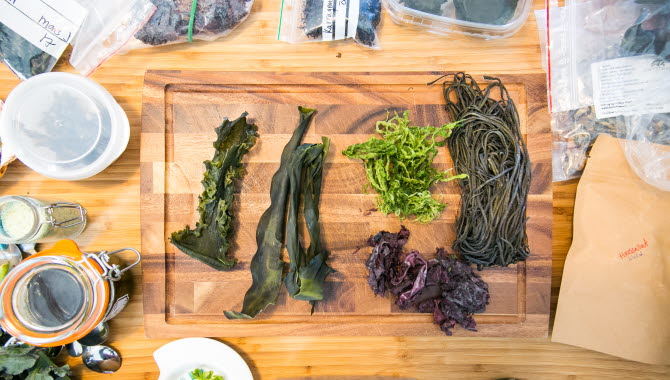 Photographer: Madeleine Landley
Brothers Per and Lars know their oysters
Let's stay a while by the coast before it's time to move inland. Bohuslän is known for its beautiful scenery, with smooth cliffs and picturesque fishing villages, but many people may not realise that the scenery under the surface is at least as enchanting. This is because the bracing waters of the North Sea are ideal for thousands of species, not least shellfish. Our motto is that food tastes best when eaten in its own environment, so the next tip is to go on a shellfish adventure in Grebbestad – Sweden's shellfish heaven!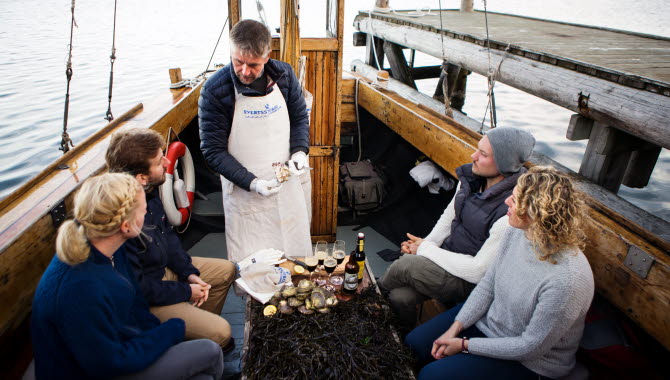 Photographer: Roger Borgelid
Did you know that as much as 90 per cent of all Swedish oysters are from Grebbestad? Two people who do know this, and who also know most of what's worth knowing about oysters, are Per and Lars Karlsson, brothers who run Everts Sjöbod in Grebbestad. Together with them you can pick oysters direct from the jetty, learn how to open them – and, of course, taste them. Lars is a winner of the Swedish oyster-opening championship, so we're really talking about expert knowledge here! Everts Sjöbod also arranges archipelago tours with its own wooden boat, M/S Tuffa, as well as lobster safaris and crab and mackerel fishing. You can also stay overnight in one of the fishing cabin's rustic rooms.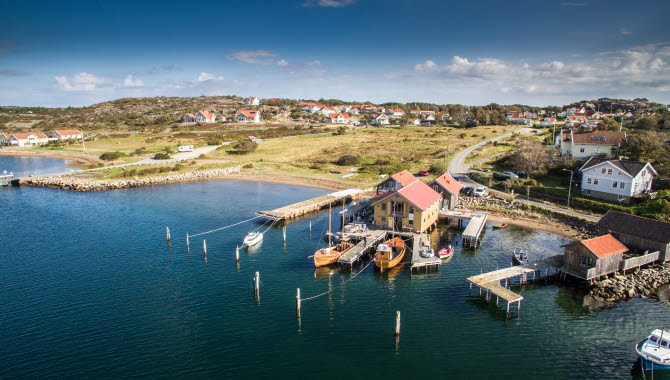 Photographer: Robert Dahlberg
Irrespective of whether you belong to the group of people who already adore the delicate saltiness of oysters, or if you haven't yet dared try them but would like to, Grebbestad is the place to go. The oysters from here are regarded as the best in the world, and Per and Lars know exactly how to bring their flavours out. Perhaps you'll be persuaded when you try oysters together with a glass of champagne, or the specially brewed Ambassadör porter, created for the 2011 Oyster Festival in Grebbestad. It's brewed by the local microbrewery Qvänum Mat & Malt, which brings us handily to our third tip.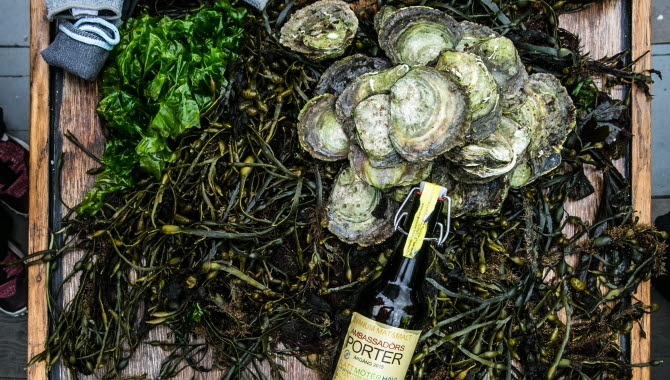 Photographer: Madeleine Landley
How is beer actually brewed?
Join us behind the scenes at a microbrewery and distillery. In the middle of the Vara plain, where barley grows aplenty, is Qvänum Mat & Malt where you get a chance to see how beer and aquavit are made.
Claes Wernersson is a farmer's son who grew up on the Västergötland plain and who became aware at a young age of the importance of quality ingredients. He trained as a farm foreman, met his future wife Annica, who is also a farm foreman, and together they ran a wholesaling business until 2004, when they bought Gategården, a farm outside Kvänum. Since then the couple have dedicated themselves to brewing natural beer and distilling spirits intended to go with food.
Photographer: Madeleine Landley
The focus here is on craftsmanship and organic production. The water used is from the farm's own well, the barley is from local farmers, and brewing is done entirely without additives or filtration, which results in a living beer that changes and matures over time. Take the opportunity to visit the traditionally Falu-red barn for an evening of brewing and distilling with a guided tour, tastings and stories. You can also buy low-alcohol beer in the farm's own shop. The slogan "straight from the soil to the table" has rarely been so apt!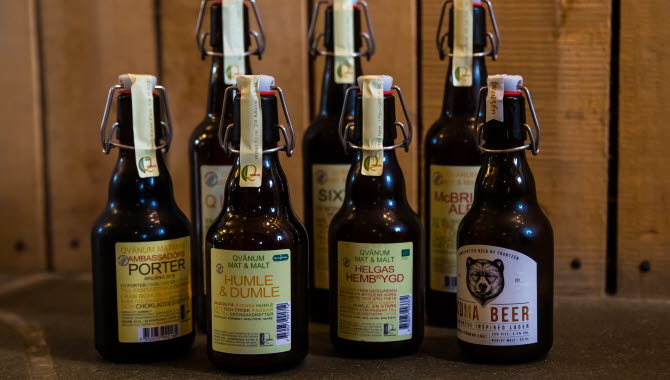 Photographer: Madeleine Landley
The farm that turned into an elk hotel
Our fourth and final tip in the "unusual food experiences" category has to do with the animal kingdom. The Alexandersson family has lived for five generations at Wrågården, just north of Falköping. Over the past decade, since Henrik Alexandersson took over running it, the venerable farm has made an extraordinary change of direction, to say the least. Henrik trained as a cabinet-maker, and he began by turning the old barn into a restaurant. But that wasn't all: the old calf stables became a conference space and the poultry house a pub. The most spectacular thing, though, is the hotel, but we'll get back to that.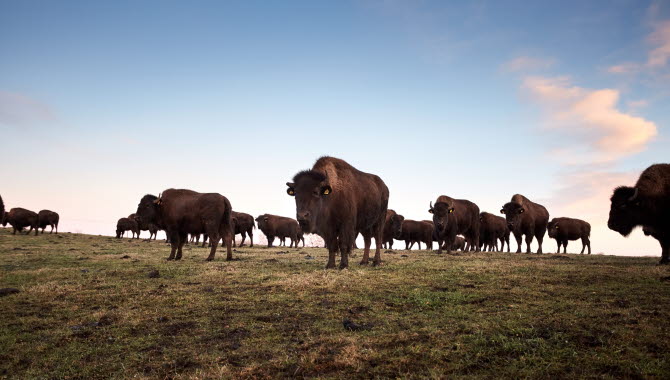 Photographer: Jonas Ingman @ Bruksbild
Wrågården is run according to a fully organic regime, and the surrounding meadows are full of roaming elk, fallow deer, bison, and highland cattle. The animals provide meat for the hotel restaurant as well as for other restaurants, and Henrik sees it as an asset to be able to show visitors the entire local production chain, from the meadow to the plate. This led to the idea of having safaris in order to get really close to the bison and see for yourself how they live. That way you can then enjoy and tasty bison burger with a clear conscience, because you know the animals have lived a good life.
But proximity to the animals doesn't end there. In collaboration with Sören Niklasson, multiple world champion of chainsaw art, several cottages have been built in the shape of elk. These cottages are located in the fenced park where the elk and deer roam. In other words you can stay in an elk, surrounded by elks! The cottages have 5-6 beds and include many fun details to explore, as well as the view over the elk park – perfect for families with children.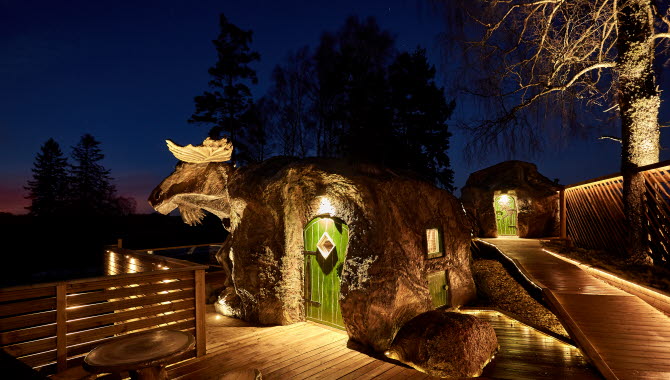 Photographer: Jonas Ingman @ Bruksbild
Would you like more tips for really good food experiences? Check out all the restaurants, farm shops and producers listed in Smaka på Västsverige / Taste West Sweden!