The Edible Country - West Sweden
Making food with ingredients from nature's pantry is something people have done throughout the ages. Now we're going to give a helping hand to anyone who wants to do just that. Welcome to West Sweden – The Edible Country!
Processed food has become every day food for billions of people. There is also a perception that healthy food is more complicated and inaccessible than other food, but it doesn't have to be that way. Natural and healthy food can be just as tasty and easy to make as any other food. And cooking it outdoors gives you all the positive health benefits that a close-to-nature lifestyle comes with. That's why Sweden has turned itself into the world's largest gourmet restaurant. Because here, great healthy food is just around the corner –in our natural surroundings.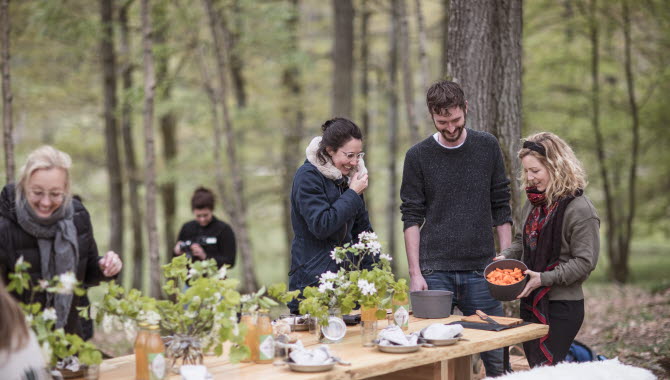 Photographer: Tina Stafren

This is how it works
Visit Sweden, in conjunction with regional tourist boards, has placed hand made wooden tables around Sweden which will be bookable between May and September. The tables have been placed all over the country – from Lappland's and Jämtland's snow covered mountains via the beautiful archipelagos in Stockholm and West Sweden to the forests in Värmland, Småland and Skåne.
What's DIY-ning?
DIY is, as you all know, an abbreviation of do-it-yourself. DIY-dining means in other words that you make your own food as part of the dining experience. Shorten that to DIY-ning and there you have it!


When is The Edible Country open?
In some ways nature's own restaurant is always open in Sweden. Thanks to the Right of Public Access most wild ingredients are available to all, 24 hours a day, all year round. The actual tables can be booked from May to September.



How does the booking work?
The tables are booked directly via the respective companies that manage them. They are bookable from May to September and online booking opens in March 2020. There are places for twelve people around the tables and they can be booked by two groups at the same time. When you have booked a table you will be contacted with more practical information about the experience.

What's on the menu?
The menu varies according to which table you book, but it's traditional Swedish food with ingredients typical of the landscapes here in West Sweden. Each menu has been created by talented top chefs. It's a do-it-yourself menu that you and your fellow diners make together al fresco. Several of the ingredients are ones you can find yourself in the forests, meadows and the sea.


Is there anything special about the table?
Definitely! Apart from the fact that it's part of the world's largest DIY gourmet restaurant, it has also been sustainably produced by local carpenters. The table top has been made out of thick unfinished pine planks which creates a wonderful robust feel. The benches are also pine, held together with lovely wooden plugs.
There are three tables you can book in West Sweden: one on Ramsvik in Bohuslän, one at Gunnebo House near Gothenburg and one by the Göta canal.
The table - Ramsvik
Ramsvikslandet is a nature reserve, and with its breathtaking views of the sea will create a food and nature experience you'll remember for a long time. The table stands on Ramsvik, around 90 minutes north of Gothenburg, and only 11 km from the island of Smögen.
The table - Gunnebo
Around Gunnebo House both the gardens and the wild landscapes are full of greenery. The table is placed on the edge of this historic park, which can be reached in 30 minutes from Gothenburg's Central Station.
The table - Göta Canal
It's not surprising that the Göta Canal was voted Swedish Construction of the Century. The table stands in a shady forest glade near Norrqvarn Hotel & Conference, around two hours north east of Gothenburg.