The Edible Country - Göta Canal
Anyone booking the table by the Göta Canal can look forward to a truly memorable experience. First class ingredients and a view of the boats passing by, on one of Sweden's most visited attractions.
It's not surprising that the Göta Canal was voted Swedish Construction of the Century. There's an incredible amount the whole family can do and experience alongside it. The table stands in a shady forest glade right next to the canal. It's within walking distance of Norrqvarn Hotel & Conference, which will handle the bookings. Norrqvarn is situated between Sweden's two largest lakes, about two hours north east of Gothenburg.
Book the table
The table is bookable on Saturdays from May to September. There are twelve places around the table so it can be booked by two parties at the same time.
Book the table by the Göta Canal
Local ingredients in focus
The area around the Göta Canal is made up of beautiful rural landscapes, with great conditions for arable and pastoral farming. Thanks to a close collaboration with local producers, Norrqvarn Hotel & Conference offers excellent food. The menu you'll get when you book the table by the Göta Canal consists of a playfully composed meal, where local ingredients are given pride of place. Malin Johansson and Sven-Erik Larsson have created a recipe comprising potato bread with seasonal veg, beef mince and herb dressing.
Cycle, walk or pass through locks
Experiencing the Göta Canal is virtually a must when visiting Sweden. This impressive construction was opened in 1832, after around 58 000 Swedish soldiers, helped by iron-tipped spades, spent 22 years digging through hills, moraine and clay. The canal links the North Sea to the Baltic, and is a total 190 kilometres long, of which 87 kilometres was dug.
Hire bikes from Norrqvarn and cycle along the car free gravel paths by the water, which were used by oxen and horses to pull sailing boats through the canal. Walking alongside the canal is also lovely.
Photographer: Roger Borgelid
Another way to explore the Göta Canal is by canoe or kayak. Just be aware that paddling through the locks isn't allowed, the canoes/kayaks have to be lifted out of the water and carried along the path. Some stretches are therefore better for paddling than others. Or why not hop on a boat and combine your visit to the table with a canal cruise?
Unique fairy tale accommodation
Norrqvarn Hotel & Conference doesn't just offer classic hotel accommodation, but also a unique chance to sleep in cosy troll tree stumps, and mushrooms. It's like living in a fairy tale land, and is guaranteed to be an unforgettable experience for both children and adults.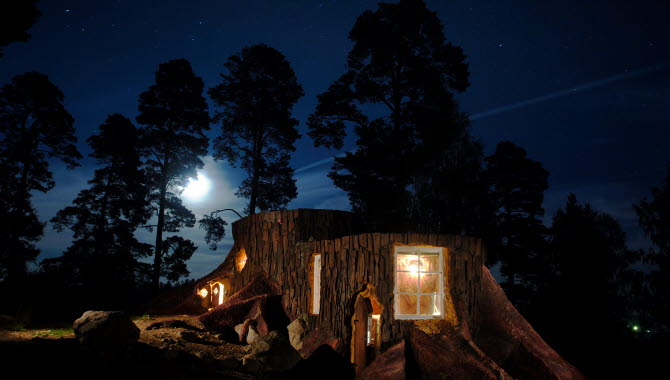 The Edible Country
Cook together with good friends, discover new and exciting ingredients and get close to Swedish nature. There are three tables you can book in West Sweden: one on Ramsvik in Bohuslän, one at Gunnebo House near Gothenburg and one by the Göta canal.