Information regarding your table booking by the Göta Canal
The Edible Country is no ordinary dining experience. Here's some information to give you an idea of what to expect when you arrive at the table at the table by the Göta Canal.
What's included in the booking?
A booking includes seats at the table which has been placed next to the Göta Canal. For 150 SEK /person you'll get basic ingredients and loan of equipment, including the following:
A basket with ingredients (for a playfully composed summer meal consisting of potato bread with vegetables and beef mince, as well as Swedish fika and coffee.
All the equipment you'll need to make the food yourselves and eat it.
Recipe created by Malin Johansson and Sven-Erik Larsson, and information about how to find the table. You'll also find tips about what to forage locally, to add a little something extra to the food (like herbs or berries, if they are in season).
The cooking kit is collected and paid for on arrival at Norrqvarn Hotel & Conference. More info below.
Remember to dress appropriately for the weather.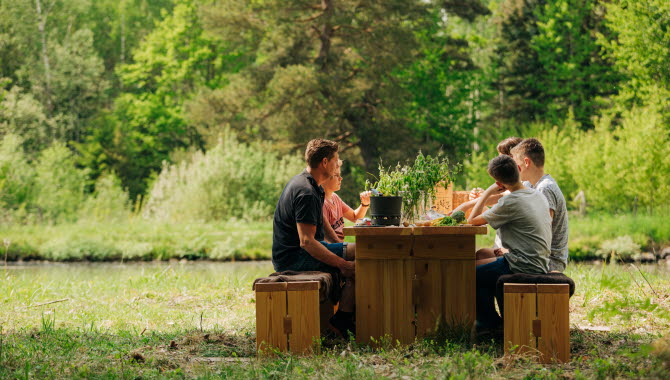 Photographer: Monika Manowska
Recommendations
If you want to make your stay extra special we recommend the following:
Bike ride along the Göta Canal – Hire bikes at Norrqvarn and pedal along the car free gravel paths next to the canal. Stop and have a dip in one of the bathing areas along the canal.
Walk the Culture Trail – There's a pretty culture trail that starts from Norrqvarn (around 600 metres), which is perfect if you want to stretch your legs. You'll pass, among other things, an ancient castle and a Viking ship setting, and can see where the constructor of the Göta canal, Baltzar von Platen, had his office while the canal was being built.
Stay the night –Norrqvarn Hotel & Conference doesn't just offer classic hotel accommodation, but also a unique chance to stay in cosy troll tree stumps, and mushrooms. You really will be living in a fairy tale land here.
Photographer: Roger Borgelid
How do we get there?
Norrqvarn and the Göta canal are situated between Sweden's two largest lakes. Here's more information and directions.
What happens when you get to Norrkvarn?
Collection of the ingredient basket and cooking equipment, as well as paying, is done in Norrqvarn's Hotel & Conference's reception. The table is a short walk from the hotel, in a leafy forest glade right next to the canal.
When you get there it's up to you how you spend your time. One suggestion is to have a short walk to get a feel for the lovely surroundings, then make the food according to the accompanying recipe and eat it whenever it suits you. The rest of the time can be spent relaxing and socialising, watching the boats on the canal, and enjoying the peaceful forest.
The cooking kit should be returned to the same place you collected it no later than 18.00. Make sure you don't leave any litter behind.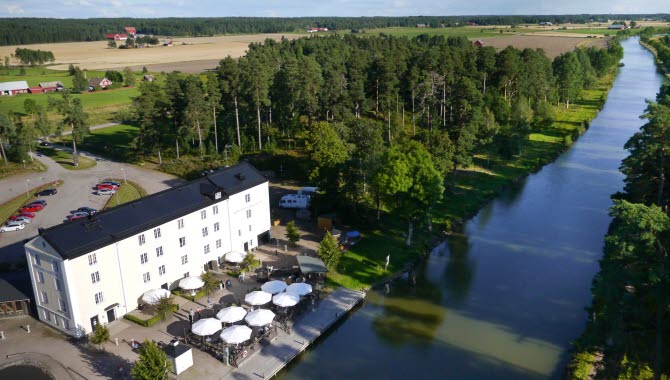 Important information
The booking is for 12.00 -18.00 only. Return the hired cooking kit to Norrqvarn Hotel & Conference no later than 18.00.
Please note that the table can be booked by two parties at the same time, which means that you might not be alone there. But the table is big so there is enough room for everyone!
Any cancellations must be made no later than 48 hours before arrival. Please note also that Norrqvarn Hotel & Conference has the right to cancel your reservation when there is a risk of extreme weather or danger of fire.
If you have any questions about your booking contact Norrqvarn Hotel & Conference, reception@norrqvarn.se or +46 (0)501-507 70.
Enjoy your close to nature food experience in Sweden – The Edible Country!
We wish you a warm welcome
Norrqvarn Hotel & Conference, in collaboration with the West Sweden Tourist Board and Visit Sweden
The Edible Country
Cook together with good friends, discover new and exciting ingredients and get close to Swedish nature. There are three tables you can book in West Sweden: one on Ramsvik in Bohuslän, one at Gunnebo House near Gothenburg and one by the Göta canal.