Information regarding your table booking at Ramsvik
The Edible Country is no ordinary dining experience. Here's some information to give you an idea of what to expect when you arrive at the table at Ramsvik outside Gothenburg.
What's included in the booking?
You have just booked seats at the table out on the rocks in Ramsvik. For 150 SEK /person you'll get basic ingredients and loan of equipment, including the following:
A basket with ingredients (a classic Swedish summer meal consisting of potatoes, herring with accompaniments, and Swedish 'fika' with coffee.)
All the equipment you'll need to make the food yourselves and eat it.
Recipe (put together by Thomas Sjögren, Sweden's Chef of the Year 2015) and information about the nature reserve the table stands on. You'll also find tips about what to forage locally, to add a little something extra to the food (like seaweed or berries, if they are in season).
The cooking kit is collected and paid for on arrival at Ramsvik Stugby & Camping.
It can be a good idea to arrive with weather appropriate clothing (it can be quite windy along the coast).
Recommendations
If you want to make your stay extra special, we recommend the following:
Buy fresh seafood to bring with – Buy a bag of freshly cooked prawns or crayfish to complement your meal. Go by the fish shop in Hunnebostrand (Norra Strandgatan 7, by the harbour) or Göstas Fisk in Smögen (Fiskhamnsgatan 32, on the Smögen boardwalk) Both are around 10 km from Ramsvik.
Go on a sea fishing trip –Go out with professional fishermen Tommy and Martin from Smögens Fiske & Skärgårdsturer on a 4-hour fishing trip (starting from their fishing hut, Sälebådsvägen 33 in Smögen). The boat can take a maximum of 12 people and the usual catches are mackerel, cod, saithe and whiting. You'll get a lovely trip in Bohuslän's beautiful archipelago and might also spot seals. (NB! Must be booked in advance!)
Go for a walk around Ramsvik – The whole of Ramsvikslandet, also known as the Kingdom of the Rocks, is a nature reserve with fantastic walking possibilities. A walk round the whole island takes around two to three hours. You'll find maps of the different walking trails at Ramsvik Stugby & Camping.


Stay the night – Why rush off? There are lots of cosy cabins sleeping 2-7 people at Ramsvik Stugby & Camping
Photographer: Roger Borgelid
How do we get there?
Ramsvik is in Sotenäs county, in the middle of the Bohuslän coast. From Gothenburg it takes around 90 minutes to get to this lovely rocky landscape. Here's more information and directions.
It's easy to get to Ramsvik on public transport or by car, but it is of course also easily reached by car. Here's more information and directions.
What happens when you get to ramsvik?
Drive to Ramsvik Stugby & Camping. Pay for and get the cooking kit in reception. You'll also be given information about where to park and how to get to the table, which is a ten-minute walk from reception (parking is 200 metres from the table). When you get there it's up to you how you spend your time. One suggestion is to have a short walk to get a feel for the lovely surroundings, then make the food according to the accompanying recipes and eat it whenever it suits you. The rest of the time can be spent sunbathing, swimming, fishing crabs direct from the rocks and just enjoying the stunning views of the archipelago. You can satisfy any cravings for something sweet with the cake and coffee provided in your basket. Before it gets to 18.00, pack up everything you've been given to take with you to the table (and make sure you don't leave any litter behind) and head back to the campsite, where you'll return the cooking kit.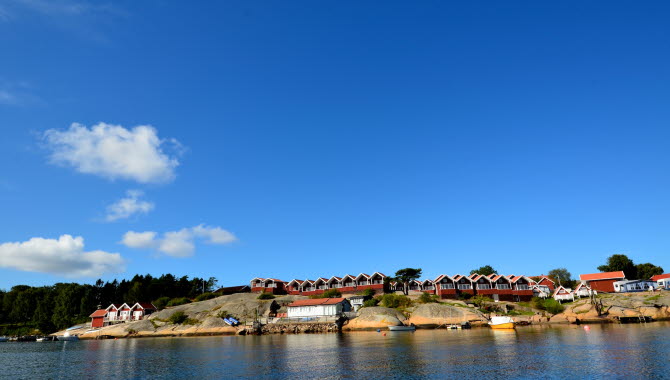 Important information
The booking is for 12.00 -18.00 only. Return the hired cooking kit to Ramsvik Stugby & Camping no later than 18.00.
Please note that the table can be booked by two parties at the same time, which means that you might not be alone there. But the table is big so there is enough room for everyone.
Any cancellations must be made no later than 48 hours before arrival. Please note also that Ramsvik Stugby & Camping has the right to cancel your reservation when there is a risk of extreme weather or danger of fire.
Enjoy your close to nature food experience in Sweden – The Edible Country!
We wish you a warm welcome
Ramsvik Stugby & Camping, in collaboration with the West Sweden Tourist Board and Visit Sweden
The Edible Country
Cook together with good friends, discover new and exciting ingredients and get close to Swedish nature. There are three tables you can book in West Sweden: one on Ramsvik in Bohuslän, one at Gunnebo House near Gothenburg and one by the Göta canal.