Ekehagens Forntidsby

Åsarp
Get to grips with ancient Sweden
Travel back in time and discover how people and animals lived in prehistoric times. Stone Age huts, a longhouse with animals, Bronze Age fields and an Iron Age farm and smithy; all of these are nestled in a peaceful oak forest in West Sweden. Feel what life was like in prehistoric times by taking part in activities and guided tours at Ekehagens Forntidsby, or walk around on your own and imagine how things might have been in the past.
Try out prehistoric activities
There are a number of activity stations at Forntidsbyn every day. Try your hand at striking flint, paddle a dug-out canoe, try out ancient games or solve today's assignment. As well as the prehistoric settings, the village also has a herb garden and a hunting path, which shows how the old traps and methods of hunting worked.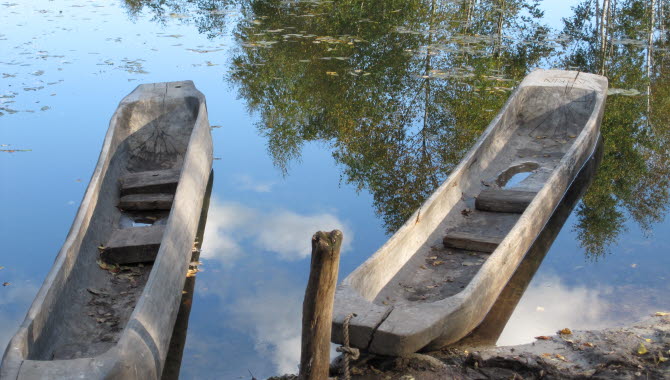 Photographer: Ann-Sofie Hjerp
Recharge your batteries
At Ekehagens café you can bring your energy levels up again. There are hot meals, sandwiches, homemade cakes, ice cream and drinks. You can buy a wide variety of things in the museum shop, from postcards, flint tools and crafts in natural materials to beautiful historic jewellery. On sale, too, are books about archaeology, plants and handicrafts.
Spend the night in a prehistoric house
Wouldn't it be great to stay a little longer and spend some time in the prehistoric village on your own when all the other visitors have gone home? Book a night in an ancient longhouse, just yourself or with friends and family. When dusk falls, tuck yourself into a bed of straw and animal skins, and wake up to the morning chorus of birdsong.
InfoPoint
Would you like more ideas about what you can find nearby? Ekehagens Forntidsby is a certified InfoPoint where you can pick up brochures and maps and knowledgeable staff can help with your questions about the area.