Kajkanten Vrångö

Vrångö
Idyllic island with no cars and accommodation in boathouses
Kajkanten offers accommodation in modern boathouses in a genuine archipelago setting in Vrångö Hamn on the far west side. Vrångö is known as the Gothenburgers' summer island. It's a car-free, archipelago with a mix of Halland's sandy beaches and Bohuslän's rocky shores off the coast of West Sweden.
Comfortable accommodation with views of Vinga
Kajkanten is on the west side of the island with a view toward Vinga lighthouse. You'll have a very comfortable stay in a modern boathouse with shower, toilet and a kitchenette for self-catering. After a restful night's sleep you can walk along the beaches and study rare and uncommon plant species, such as wild asparagus and sea holly. If you are lucky, you might even catch a glimpse of a black guillemot or a kestrel.
Time for adventure, time for relaxation
There is a floating sauna at Kajkanten, which is not only used for a sauna with a cool dip but also for meetings and meals, completely surrounded by the sea and the rocks. If you're looking for adventure at sea you can rent kayaks at Kajkanten and explore the archipelago from the water. If you prefer to explore it on foot, there are many options for invigorating runs or walks around the island.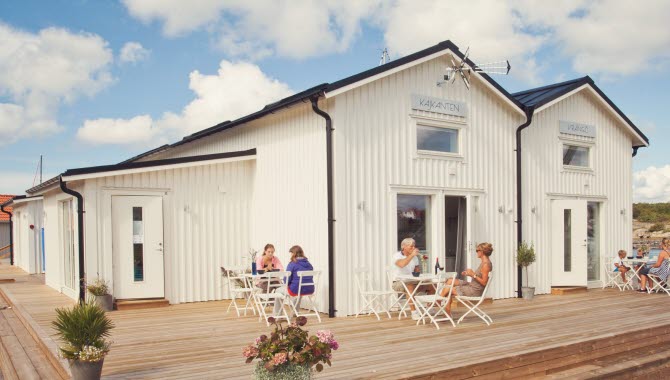 Many choices for eating
You don't need to go hungry on Vrångö. Grocery shopping can be done at Måsens Liv in the harbour, which is open daily. Next to Kajkanten is Fiskeboa, open in the summer, where you can buy seafood and fresh fish or sit out on the terrace and enjoy light meals. You can buy breakfast and a picnic from Södra Skärgårdens Café & Restaurang or sit in the dining room for a really nice meal.
Creative conferences in a calm archipelago setting
Holding your conference at Vrångö is a different experience compared with a normal conference hotel. Things are a little calmer, a little easier, more open - in a nutshell, more freedom for body and soul. Kajkanten collaborates with several local activity companies, so just choose a package that suits your groups or tailor-make the conference to suit your specific preferences.
InfoPoint
Would you like more ideas about what you can find nearby? Kajkanten Vrångö is a certified InfoPoint where you can pick up brochures and maps and knowledgeable staff can help with your questions about the area.