Exhibition - We have a dream

Hjo
An exhibition about courage, compassion and human rights
How much punishment are you willing to take to stand up for your own rights, and those of others? Some people are prepared to risk their lives for their rights and their dreams.
Name of the exhibition: We Have a Dream
Where: In Hjo, both outside and indoors.
What is displayed: Exhibition with 114 photographs and texts
It's about: courage, compassion and human rights
Shown outdoors: by Hjo square (Stora torget), Cultural Quarter (Kulturkvarteret) and Hjo Town Park (Hjo Stadspark)
Shown indoors: in Kulturkvarteret
Admission: free
When open: outdoors around the clock, until 31 Oct. Indoors - check opening hours >>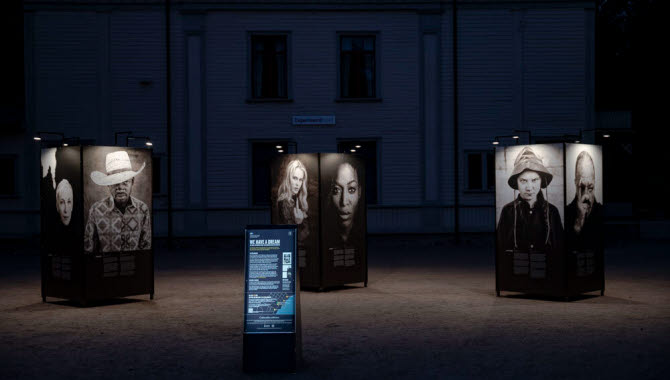 Photographer: UponWalls - Albert Wiking
The project
We Have a Dream is essentially a photography project, but one that goes beyond the portrait frames. The initiators – Albert Wiking >>, photographer and Oscar Edlund, interviewer – wished to contribute to a more livable world by showcasing some of the people who fight to make a difference.
Among those portrayed are members of the punk band Pussy Riot and the Chinese regime critic and artist Ai Weiwei – who have fought for democracy. Also portrayed is the youngest Nobel Peace Award winner Malala Yousafzai who is fighting for girls' right to education. The project also includes human rights lawer Dr. Navi Pillay, musicians Annie Lennox, Quincy Jones, Zara Larsson, Patti Smith and Timbuktu, model and actress Ruby Rose, writers Chimamanda Ngozi Adichie and Yeonmi Park, as well as UN functionaries Anders Kompass and Jan Eliasson. The texts in the book and exhibition is written by journalist Daniel Rydén.
Indoors and outdoors
The exhibition will have the best effect if you exhibit both indoors and outdoors. The exhibtion also includes a "Dream Room" where you can listen to all the stories relaxed sitting down an a comfortable chair.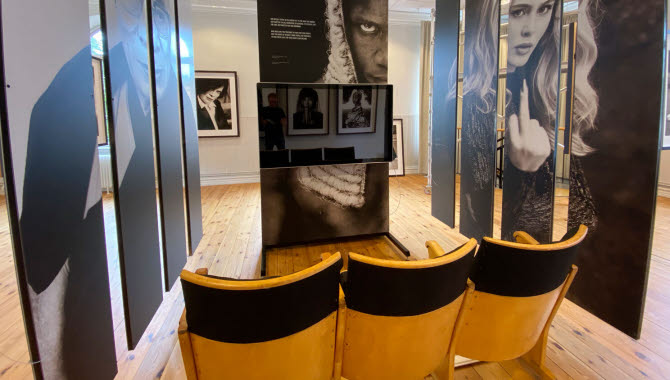 Photographer: UponWalls - Albert Wiking
{{cal.Localization.FullMonthNames[cal.currentMonth]}} {{cal.currentYear}}
{{day}}

{{day}}

{{time.Start + (time.End ? ' - ' + time.End : '')}}

{{day}}
{{cal.Localization.ShortDayNames[event.Date.weekday]}} {{event.Date.day}} {{cal.Localization.ShortMonthNames[cal.currentMonth]}}
{{time.Start}} {{time.End ? ' - ' + time.End : ''}}