Experience, stay, taste and enjoy near Lake Hornborga
The region around Lake Hornborga is a treasure chest of experiences. Here you can experience beautiful scenery and fascinating history, enjoy locally sourced food, see cranes dance at close range, stay in unique accommodation and much more.
For many people, visiting the crane dance at Lake Hornborga is a much-loved tradition, and a way of celebrating the coming of spring. The first cranes arrive at the lake in mid-March, but the area around the lake is beautiful – and well worth a visit – throughout the year. For more inspiration see the film below.
Want to visit the locations in the film?
Start at the Trandansen Information Centre (located between Falköping, Skara and Skövde). From there it is about 25 kilometres to Varnhem Abbey Church. Along the way you'll find accommodation, cafés and numerous points of interest.
No 26: Islanna Treehouse Hotel - Accommodation
No 36: Löfwings Studio and art café - Attraction and restaurant/café
No 41: Nästegårdens Bed & Breakfast - Accommodation
No 40: Naturum Visitor Centre - Attraction, activity and café
No 53: Varnhem Abbey Church - Attraction, activity and café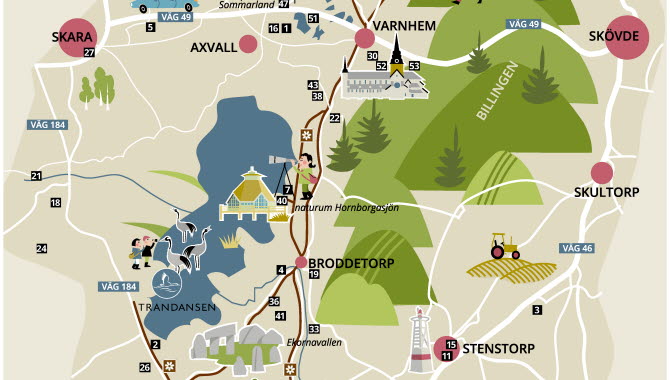 Trandansen Lake Hornborga
The most well-known attraction at Lake Hornborga is Trandansen (the Crane Dance), an information centre at the southern end of the lake. The first flocks of cranes arrive here as early as mid-March. Later, you will often see thousands of cranes every day until the end of April. The record is more than 26,000.
At Trandansen there is ample parking, excellent viewing stations, an information centre with a crane exhibit.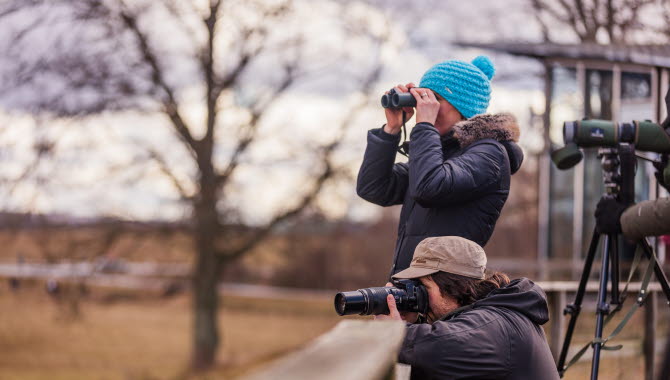 Photographer: Jesper Anhede
Löfwings studio and restaurant
About ten kilometres from Trandansen is Löfwings, a gem that you mustn't miss. Enjoy beautiful art, genuine taste sensations and magical scenery.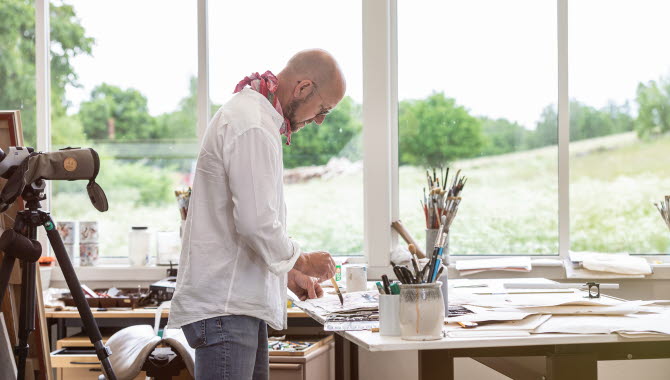 Photographer: Tuana Fridén
Naturum Visitor Centre
By the eastern shore of Lake Hornborga you'll find the Naturum Visitor Centre. Here you can take in the lovely scenery and fascinating bird life, take a guided tour, see a film and the exhibit on the lake's history and bird life, go on a treasure hunt and much more. And don't miss Café Doppingen.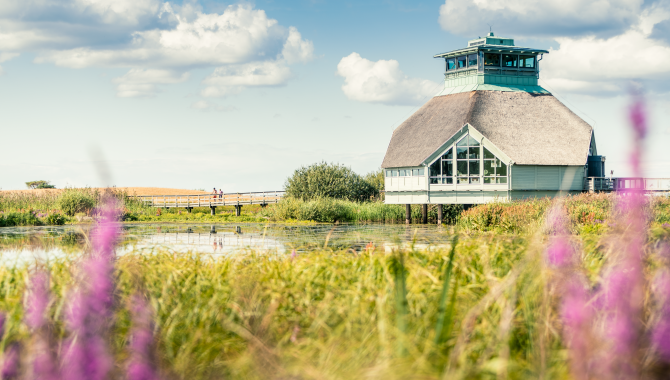 Photographer: Lukasz Warzecha LWimages Studio
Varnhem Abbey Church
In a scenic location on the western slope of the Billingen plateau is Varnhem Abbey Church. In the late 13th century it was the largest church in Sweden, and today we can still see traces of the abbey and of the lives of the Cistercian monks who lived here. In recent years, excavations here have found remains from the 10th century and evidence of the Christianisation of the province of Västergötland. The excavation area is accessible to visitors, with a roof to protect from the weather. And while you're there, don't miss a visit to the Abbey Museum, a guided tour in the abbey church or a nice coffee or tea at the café.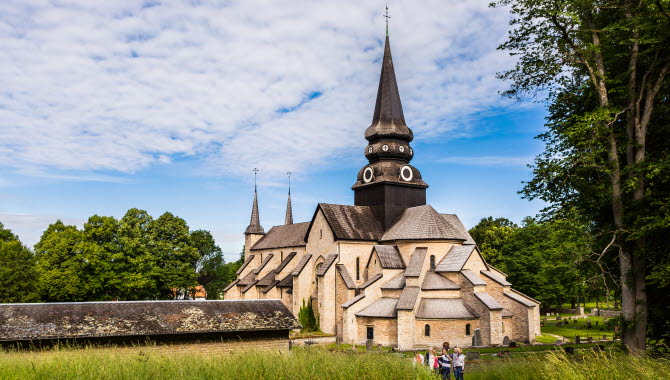 Photographer: Mårten Bergkvist
Unusual accommodation
Do you want to live in the treetops, in a genuine 19th century setting, or perhaps in an elk? Around Lake Hornborga there is lots of charming accommodation, but a few of them are worth extra mention.
Treehouse Hotel Islanna - Hotell Andrum and Hotell Sjunde Himlen
In the middle of the countryside, near the crane lands of Lake Hornborga are the treehouses Sjunde Himlen (Seventh Heaven) and Andrum (Breathing Space). This is a stunning place to stay, 6.5 metres up in the oak trees. Enjoy views through the leaves and the whisper of the wind. After a good night's sleep, a generous breakfast basket is hoisted up to your balcony, including stone-baked bread, made the old-fashioned way, by an open fire.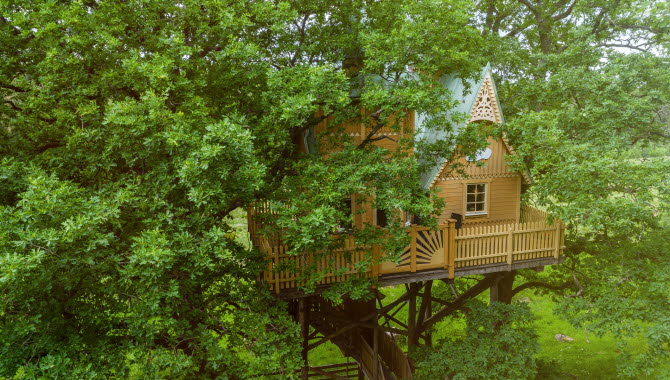 Photographer: Tuana Fridén
Nästegårdens Bed & Breakfast
Just outside Falköping is Nästegården Bed & Breakfast, one of the area's oldest and best preserved farmhouses, dating back to the 19th century. The meticulously restored buildings feature broad-plank wooden floors and hand-blown window panes. French iron bedframes, hand-printed wallpaper and antique furnishings make for a genuine, peaceful atmosphere. The breakfast is made from locally produced ingredients, prepared on a wood-fired stove and served on antique china.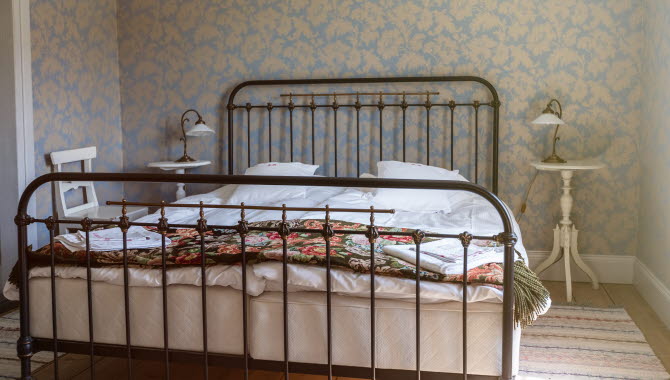 Photographer: Tuana Fridén
Stay in an elk, amongst the elks
About 15 kilometres from the Trandansen Information Centre there is some really unusual accommodation. Chainsaw artist Sören Niklasson has created organic structures where you stay in an elk in the middle of a wildlife park featuring elk and deer. Outside the elk cabin is a deck where you can barbeque while looking out over the animal enclosure. You can watch them swim, and remember to have an apple or some twigs ready, to feed them when they come for a snack and a "chat". At the Wrågården farm you can also enjoy good food, take a bison safari, play football golf and much more.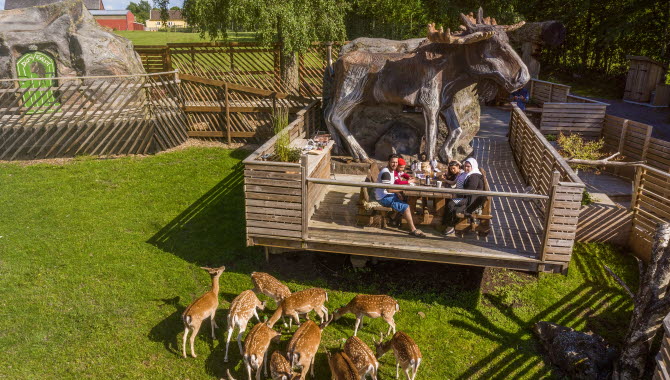 Photographer: Tuana Fridén
For more info about Lake Hornborga
To find out more about what's going on around Lake Hornborga, where you can eat, stay, etc, go to. You'll find lots of inspiration and information.