Karlsborgs Fästning

Karlsborg
Exciting events in the fortress from the nineteenth century onward
Gun smoke, underground passages and an evil sergeant. Join the guided tour Raiders of the Lost Gold Reserve or one of the other tours on offer at Karlsborg fortress in Karlsborg, West Sweden. A small village, almost, has evolved inside the walls of the mighty fortress from the nineteenth century. Enjoy good food and refreshments, an exciting museum and feel the history all around you in the walls.
Museum and exhibitions
As well as taking part in different adventures at Karlsborg fortress, make sure you visit the museum. Stroll around the different sections and check out all the special exhibitions from past history to modern times. The garrison church on the second floor is also worth a visit.
The grand fortress area is always open to visitors and requires no special entrance fee.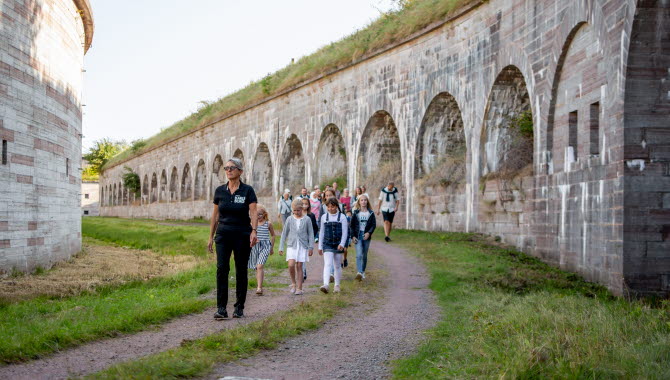 Photographer: Blurry Shots
Plan your events in a really exciting historical setting
Do you have a family gathering, wedding reception or large party in mind? There are many options in authentic historical settings at Karlsborg fortress. Rent one of the conference rooms, or perhaps even the mighty Gravkaponjären, right inside the defence sections of the fortress. You can book rooms, food, accommodation, activities and much more here - all in one place.
Plan your conference in a really historic setting
A successful conference in an exciting setting far from the stress of the city, just a few steps from the shores of lake Vättern. There are rooms here for all types of meetings, complete with food, an overnight stay and a wide range of activities.