HÄLLEKIS-TROLMEN PATH
14 km of the Kinnekulle Path
See the most attractive railway line in Sweden and the flowering mountain of Kinnekulle on this lovely walk.
Quick facts
Distance: 14 km Time: 3 hours Difficulty: Moderate Terrain: Varied terrain on woodland paths and small roads.
Take the Kinnekulle railway or drive to Hällekis station where your walk begins. The path partially skirts the Vänern shoreline where you can stop off for a swim in several places. You will pass Hellekis Säteri with its beautiful gardens well worth a visit, or you could stop for lunch or coffee at Hellekis Garden Café & Restaurant. After that, continue up through Munkängarna. If you are planning a visit in May-June, there's every chance you will find yourself walking through flowering meadows with the smell of wild garlic on the air every step of the way. Remember that you are not permitted to pick wild garlic in nature reserves. The red areas on this map show where the nature reserves are. You are welcome to pick wild garlic in other parts of Kinnekulle.
It's worth making a short detour to the "little Grand Canyon", Stora quarry. The quarry is 40 metres deep and was used to quarry limestone. The lower layer of limestone dates back 400 million years and the shifting colours of the layers of stone and the beautiful environment have made the quarry one of Kinnekulle's most popular places to visit.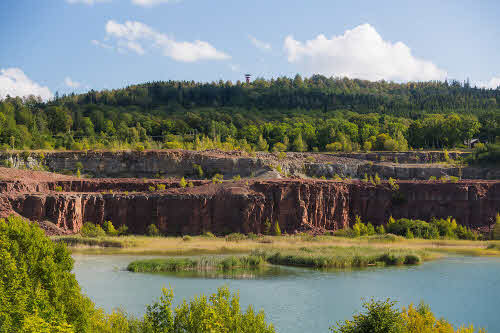 Photograper: Jesper Anhede
After walking through the leafy green woodland, the path takes you down past Råbäcks slott and on down to Råbäck harbour. Enjoy the glorious views across lake Vänern and if you're lucky, you might have turned up on a day when Råbäck Mechanical Stoneworks is open.
Then the path makes its way along the lake Vänern shoreline before turning off to Trolmen station where it ends. This is an old-fashioned railway station with its own mini-library, from which you can take the train back to Hällekis station.
Fact about the trail
Marking:
The first part of the path is marked in blue and then it changes to orange marked "Kinnekulleleden".
Level of difficulty:
The walk is classified as moderate difficulty and runs through varied terrain on woodland paths and minor roads.
Start and end:
The path starts at Hällekis station and ends at Trolmen where you then take the train back. Or, of course, you could do it the other way round.
How to get here:
By train, you can take Västtrafik's "Kinnekulletåg" to Hällekis station or Trolmen station. If arriving by car, the easiest place to park is at Hällekis station in the middle of Hällekis.
Map:
Here you can find a printable map.