Garveriet

Floda
Sustainable food, café, bakery and a natural meeting place for learning
Garveriet in Floda is a complete meeting venue, with a restaurant, café and bakery, all with sustainability at their core. Enjoy locally produced lunches and stone baked bread and cakes, or learn how to prepare meals from leftover ingredients – all in a rustic, open and light space.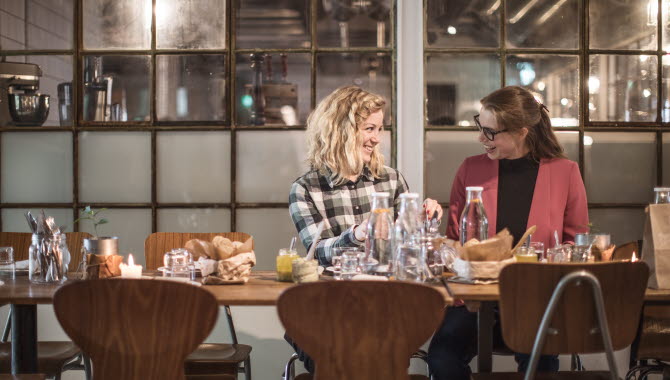 Photographer: Tina Stafren
Garveriet's heart is a wood fired brick oven
The bakery choice is substantial, and while you stand and make your choice among the sourdough bread and cakes take the opportunity to have a good look at the massive wood fired oven a few metres behind the bakery. It's used for both baking and food prep and is heated by around 50 kilos of wood every day.
Photographer: Johan Törnroth
There's always a choice of three different main dishes at lunch; meat, fish or vegetarian. The menu is based on what local producers have to offer during the season, and varies according to the availability of ingredients.
"We want the foodstuffs we use to be honest and genuine. We work with small scale producers who really put their all into their products," says restaurant chef Patrik Sewerin, who used to be head chef at Gunnebo Castle and Gardens amongst others.
You can read more about what's on the menu currently in Garveriet's restaurant and café on their website.
A place for learning and meeting
Everything at Garveriet is infused with innovative sustainable ideas, and that theme is explored in a range of activities for both individuals and groups. On the second and third floors there are variously sized meeting rooms suitable for small as well as bigger groups. The largest meeting rooms can hold 150 people in one gathering.
Learn to make lunch using what many class as 'food waste', attend inspiring lectures about future food production or do a beer brewing course with your colleagues.
Photographer: Johan Törnroth
Garveriet has a Taste of West Sweden certification. This is awarded to restaurants, producers and farm shops that offer sustainable and genuine West Swedish products and food experiences based on seasonal local ingredients.
Half an hour from Gothenburg
It's easy getting to Garveriet in Floda by train from Gothenburg (30 minutes) or Alingsås (15 minutes). It's only a few minutes walk to Garveriet from the station.
The premises were a leatherworks from 1971, making amongst other things shoe soles. Since then the building has been completely cleaned and carefully renovated, but its industrial feel has been kept alive in a sympathetic manner. The benches in the restaurant are made from oak from nearby Öijared, tables and chairs are recycled, and the original brick walls have been exposed in the upstairs conference rooms. All to maintain the building's historic character and re-use as much as possible.