Lydde Gård

Kinna
Ecological guest house close to nature
Lydde Gård is an eco guest house in West Sweden offering you fine rooms with a hotel standard, located just outside Borås. You're close to the countryside, lakes, museums and golf courses. Despite its central location, Lydde Gård has a pleasant sense of calm. A delicious breakfast buffet will be waiting for you when you wake up, with organic and fair-trade labelled products and ingredients, home-made bread and honey from beehives on the grounds.
Calm and harmonious rooms
Lydde Gård is a renovated manor from the textile era, converted with great care into an ecological guest house. There is a sense of history throughout the house. The rooms have been tastefully decorated to evoke calm, harmony and a homely atmosphere. A luxurious bed is waiting for you with sheets and quilts of organic cotton and wool.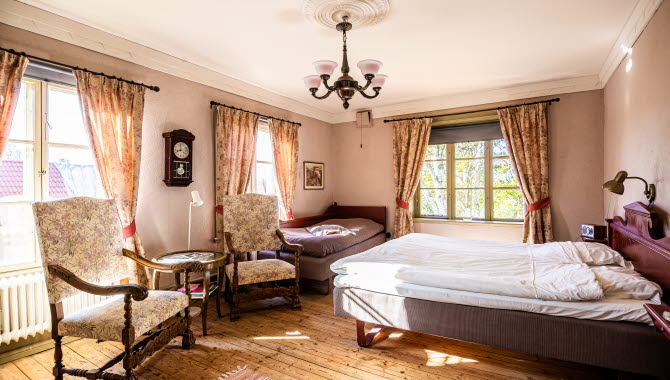 Photographer: Jan Olsson / Lydde gård
Sustainable development
As one part of the farm's work with sustainable development, collected rainwater is used in the washing machine and the toilets. There is a charging pole for electric cars, too. If you come to Lydde Gård by train, bus, bicycle or electric car, you will be given a 10 percent discount on the cost of your room.