West Sweden – For everyone who bikes, and for every type of bike
West Sweden is the perfect holiday destination if you enjoy discovering the world from a saddle and two wheels – whether it's at a leisurely pace with your family, or on a mountain bike through the pine forest cathedrals and along sweeping country roads. Scenic trails meander by coastlines and lakes, across fields and plateaus, through the woods and right into cosy fishing villages. And you can of course combine active cycling days with comfortable overnight stays and fine food.
Take your bike on an island-hopping boat tour
Island-hopping by boat – and taking your bike with you – is the ideal choice if you like pedalling around on car-free islands and discovering the best fishing and swimming spots, but are less keen on cycling long distances between those gems. Experience the magic of the Bohuslän archipelago – named one of the 10 last great wildernesses in the world by CNN Travel. You can plan your itinerary, and how long each stop is going to be, exactly as you want it – and if you like, you can have your baggage sent on to the next destination.
Bike holidays along the coast
The islands of Tjörn and Orust are a dream for cyclists, with salt-stained coastal roads and small country lanes. Check out the trawlers and fishing sheds in the picturesque coastal village of Mollösund, or follow the winding trail from Akvarellmuseet (the Nordic Watercolour Museum) in Skärhamn through wind-twisted pine forests to the blessed land of shoreline meadows. And there among the boulders, Stone Age burial sites and grazing sheep, you'll come across Skulptur i Pilane, one of Europe's most beautiful sculpture parks. Spend the night in cosy hotels or hostels along the way and treat yourself to a proper shellfish feast for dinner – a must when visiting Bohuslän.
Göta Kanal – favourite of families with children
If you prefer a more inland itinerary, we recommend the popular cycle path along Sweden's "blue ribbon", the Göta Canal. The whole family can cycle right by the water here, on a narrow, car-free gravel road that was once used by horses and oxen pulling sailing boats up and down the canal. Begin your trip in Sjötorp by Lake Vänern, Sweden's biggest lake. After stopping for a coffee in Lyrestad, continue your ride towards the Norrkvarn canal lock area, where the kids can play and splash in the mini-canal and where you can spend the night in a cottage shaped like a tree stump or a mushroom. The next stop is Hajstorp, where you can tick no less than nine locks off your list. There are good lodging options along the entire canal stretch, and several companies offering bike holiday packages.
Photographer: Roger Borgelid
Two-wheeling it along the old embankment
The Ätradal trail, which runs between Falköping and Falkenberg, is another family-friendly cycle route without the nuisance of cars. The trail follows an ancient trade route, and in the area around Ulricehamn you pass through the cultural landscape where the popular films about Änglagård were shot. Have a go at blowing your own glass in Limmared, visit the Stone Age at Ekehagen's Prehistoric Village, discover the well-preserved manor of Torpa Stenhus, or relax with a swim and a massage at the open-air baths in Ulricehamn. Along the route you can enjoy locally produced food and sleep in a farmhouse or a lakeside cottage. At its southern end the Ätradal trail connects with the Kattegatt trail.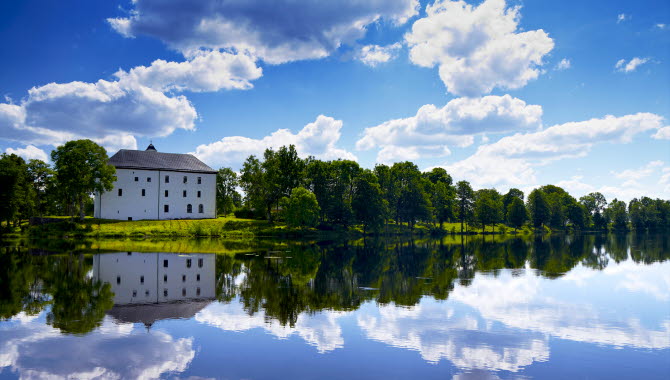 Photographer: Jonas Ingman
The wilds of Dalsland – paradise for mountain bikers
The wilderness of northern Dalsland is like a rough diamond for mountain bike fans. The terrain here speaks of a time when the inland ice ruled, and among all the rift valley lakes, rocky outcrops and bilberry thickets is a rich network of trails. Far from all of them are marked, but the local tourist organisations will be happy to suggest suitable routes. South of Mellerud the landscape is flat, but the farther north you go, the more hilly and difficult the terrain becomes. And if you want to test your skills comprehensively, take a trip to Lagunen Bike Park outside Strömstad, in northern Bohuslän.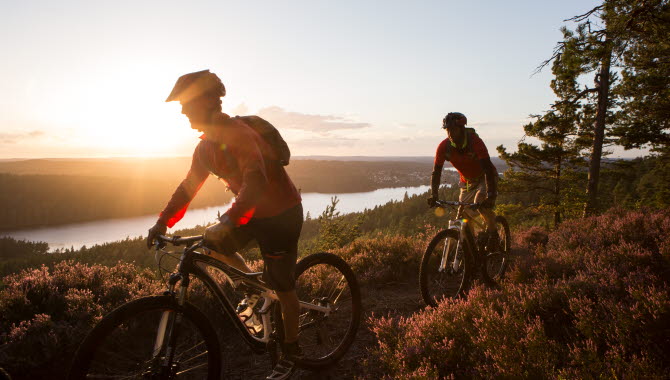 Photographer: Roger Borgelid
Challenge the Västgöta tablelands
The table mountains of Kinnekulle by Lake Vänern, Billingen in Skövde and Mösseberg in Falköping also offer fabulous mountain bike trails of varying length and difficulty. Ride
the 45-kilometre Kinnekulle trail up to the top and then down along Lake Vänern's shore until it starts climbing again. And there, eventually, is your reward – a magnificent view over the lake and surrounding landscape. Or put your equilibrium to the test in Billingen's bike park, with banked curves, drops and obstacles.
A little farther south in Västergötland is Ulricehamn, with the Lassalyckan recreation area nearby. The area is a certified Vasalopp centre and has easy mountain bike trails as well as more challenging ones.
Well planned route suggestions for racers
Discover the west Swedish countryside in the best possible way – from a bicycle saddle. Starting from Falköping Cycle Centre there are suggested bike tours with lengths varying from around 20 to more than 200 km. Pedal past the dancing cranes at Lake Hornborga and on to the historical Varnhem Abbey area, passing through the rolling Vallebygden landscape, dotted with small lakes and traversed by winding roads. A long ride will get you to Kållandsö, where you can make a food stop at the Hvita Hjorten restaurant and enjoy the views over Läckö Castle and the Vänern archipelago. Or why not ascend to the Hökensås plateau and make your way towards the town of Hjo, with its renowned wooden architecture. An ice cream break by the harbour will do wonders for sore shoulders and aching thighs. The enormous variety of route suggestions makes Falköping a starting point for day trips as well as more extended training outings.
The freedom to roam – taken for granted in Sweden; unique in the world
On your bike you have the freedom to make your way everywhere, stop for a picnic wherever you choose, and find adventures at your own pace. The statutory Right of Public Access in Sweden, or freedom to roam, means that everyone has access to nature, but it also demands great responsibility in return. Remember to show consideration for pedestrians and to adapt your riding style to the surface. Avoid cycling in the woods when the ground is thawing or wet with rain, as this means harder wear on the terrain. You can learn more about your rights and obligations by reading here: https://visitsweden.com/freedomtoroam/