Bohusleden - On foot through Bohuslän
Bohusleden is a traditional long-distance footpath that stretches from Strömstad in the north to Lindome in the south, covering a total of 370 kilometres. The footpath passes through a wide variety of landscapes and is divided into several sections, which are suitable for day trips or weekend walks.
From Strömstad to Lindome
Bohusleden takes you through a kaleidoscope of hills, valleys, past woodland meres and thinly covered wetlands, around larger lakes and through cultivated landscapes with pastureland. Bohusleden goes from north to south through the whole of Bohuslän, from Strömstad to Lindome. In the north it connects to Kuststigen, the coastal path, which continues to Norway; in the south it connects to Hallandsleden. There are 27 sections in all, most of which are easy walking, while other sections are hillier. If you don't fancy taking on 370 km in one stretch, there are many good options for one-day or several-day trips.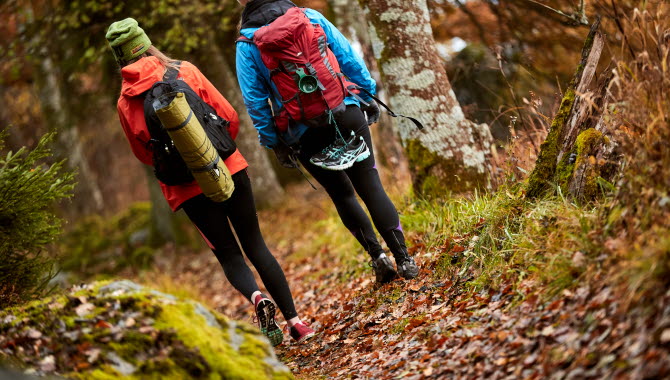 Photographer: Jonas Ingman
Virgin forest and high plateaus
Tranquillity is just one of the things you'll find when walking through Bohuslän. Most of the footpath is not far from the sea, but it takes you through peaceful woodland and around open wetland. There are a number of significant natural areas that you'll pass, such as Bohuslän's highest peak, Björnerödspiggen at 222 m, the high plateaus of Kynnefjäll and Stora Getryggen outside Gothenburg. The Svartedalen nature and recreation area is one of West Sweden's largest purely coniferous areas, for fans of virgin forests. You'll love the gnarled old trees in this grand, mysterious forest.
Lots to discover
There are many exciting places to discover along the path, depending on which sections you choose to walk along. Bohus Fortress in Kungälv, the Shell Bank Museum in the outskirts of Uddevalla and well-preserved rock carvings on the east side of Strömstad are just a few of the historic highlights. You will also pass the ruins of several cottages in the south and some inhabited hillside farms in the north. Wind shelters and resting areas have been built along the footpath where it is possible to camp for the night.
Easy to plan your route
There are orange markers along the footpath on trees and poles, which makes it easy to find your way in either direction on any of the sections. At the beginning of each section an information board shows distances on a map with various symbols, as well as conditions regarding the right to roam (allemansrätt). You can find detailed information about each section on the Bohusleden website with maps, sights worth seeing, services along the footpath, how strenuous the sections are, estimated walking times and contact information. This makes it easy to plan the right length of walk for your party. If you are travelling on public transport, it is easier to connect to the footpath in the southern half.