Pilgrimsleden in Dalsland
The Pilgrim Path in Dalsland is a varied, scenic footpath that takes you through more than 100 km of beautiful countryside. The southern part is easy walking along country roads, while the section north of Mellerud follows small paths with some challenging parts in hilly countryside.
One path, two landscapes
The Pilgrim Path in Dalsland covers the whole distance from Vänersborg in the south to Edsleskog in Åmål municipality in the north. South of Upperud the path follows roads and walkways past a number of medieval churches. In Upperud the path changes character into a really beautiful wilderness trail. For those who want to see some pristine Dalsland forests the northern part of the Pilgrim Path is recommended, which at times is similar to walking along the famous Swedish trails at Höga Kusten. One suggestion is to start in Mellerud, which can be accessed by public transport. Follow the path along the orange marks and signs.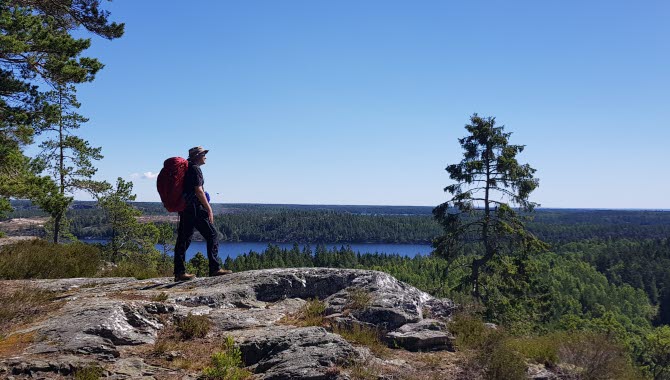 Photographer: Gaby Karlsson-Hain
Forests, lakes and historic buildings
There is a lot to experience along the path, including fascinating landscapes with different types of forest and many small lakes. In some parts there are many small roads, holiday homes and other buildings. In other parts there are signs of active forestry with clearings, brushwood and dense spruce plantations. From time to time you have to walk up fairly steep gradients, but the view from the top is well worth the effort. Along the path there are many places with historical connections, from stonewalls and croft foundations to beautiful churches from the 13th century, including Holms church in Mellerud. In Upperud you pass the Dalsland Canal, where you can eat good food and watch the boats using the locks during the summer.
Photographer: Gaby Karlsson Hain
Accommodation
Along the northern sections of the Pilgrim Path there are several overnight sites with fireplaces and shelters, making the path suitable for one-day and several-day tours. In some places there are hotels or hostels alongside the path, for example Upperud 9:9, a modern hotel framed in an old granary, and Edsleskogs Wärdshus, a cozy inn located next to lake Edslan. Furthest north in dsleskog you can join up with Storspåret, which is not quite as well marked as the Pilgrim Path. Follow Storspåret for 20 kilometres and you finally come to Åmål, from where it is possible to take public transport back to Mellerud or Vänersborg.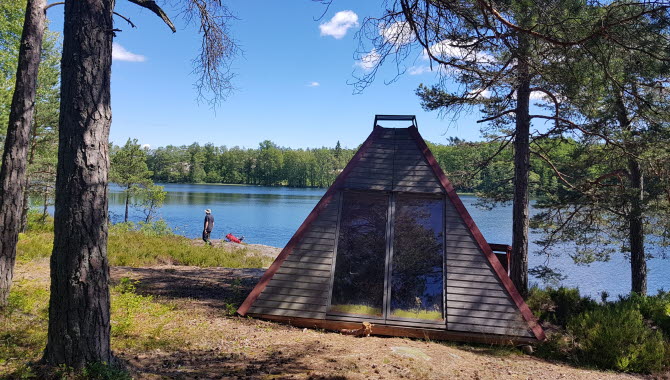 Photographer: Gaby Karlsson-Hain
Make your own pilgrimage
Pilgrimages were popular in Sweden during the Middle Ages. During this period many pilgrims travelled on foot through Västergötland, via Edsleskog in Dalsland, and further northwards toward the final goal of Nidaros in Norway. Pilgrimages were prohibited by the Swedish ruler Gustav Vasa in the middle of the 16th century, but have now become popular once again. These days people do not only have religious motives for making a pilgrimage, but they often have a desire to get closer to nature and take a break from busy everyday life. Why not try it out?