Soteleden - Varied hiking along the Bohuslän coast
Soteleden is a varied hiking trail in a spectacular landscape, right in the middle of the Bohuslän coastline. The trail is about 70 kilometres long and goes through a wonderful mix of forest, mountain and coastal areas.
Diverse landscapes
Hiking along Soteleden's twenty sections is pure pleasure, with many abrupt changes of scene en route. One moment you're looking out over the Bohuslän archipelago with the seawater splashing over the rocks. Next you're in magical forest settings with widespread pine and spruce forests mixed with deciduous trees, bogs and heaths. The trail passes several lovely coastal gems of West Sweden such as Smögen, Kungshamn, Malmön, Ramsvik, Hunnebostrand and Bovallstrand. Some parts of the trail are like a network of paths, as is the case in the section that passes over the light-red coloured rocks by Ramsvikslandet.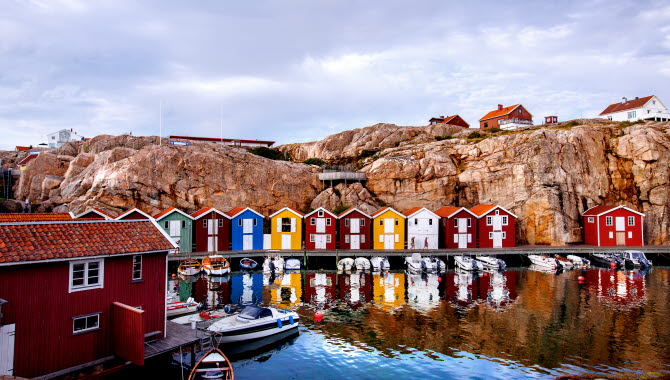 Photographer: Åsa Dahlgren
Easy to find the way
The trail consists of twenty sections, some of which are standalone, which means that you can start your walk from several different locations. It is easy to follow the trail since it's well signed, with blue and white marks on poles, trees and in some places cairns. Some signs also indicate Kuststigen, where the two trails coincide. There are good maps showing the route of the trail. Brochures can be bought at tourist offices in the area and are available to download from the Sotenäs website.
The kingdom of cliffs
There are many natural and cultural experiences along the trail that are reminiscent of the people who used to live in the region. Try to visit the stonemasons' museum in Hunnebostrand and discover the nature reserve called "Klippornas rike" (meaning the kingdom of cliffs) on Ramvikslandet. The rocks and cliffs are excellent for natural, exciting climbing, and a great way of spending an afternoon is looking out for the rare species of animals at the zoo Nordens Ark, next to Åbyfjorden. One section of the Bohus trail goes to Bohus-Malmön, where there are plenty of well-kept swimming spots and popular sandy beaches. The whole trail has many viewpoints, overnight cabins and open-air shelters.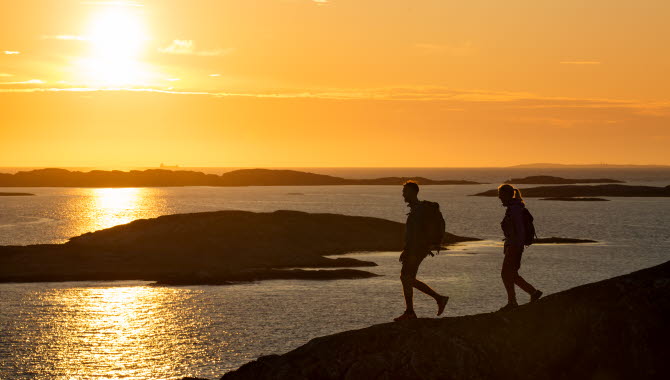 Photographer: Roger Borgelid
Walk comfortably without a backpack
At several of the accommodation options in Sotenäs you can book packages that include hiking, food, accommodation and related activities. You can also book a package called "Walking without a backpack", which is perfect for those who want to stay the night in comfort and walk without a heavy backpack. When you arrive at your next hotel, your pack is already there and you can enjoy a good dinner and prepare things for a new day in the great outdoors.