Hav & Logi

Skärhamn
Family houses, hostel and camping on Tjörn
Built literally on the rocks, Hav & Logi has a beautiful location right on the west coast. Choose between staying at the hostel or in the spacious, high standard architect-designed family houses. There is also a campsite just below the family houses and the hostel. Enjoy the sun, the salty sea and beautiful Bohuslän rocks on a warm summer's day. It's all within easy walking distance.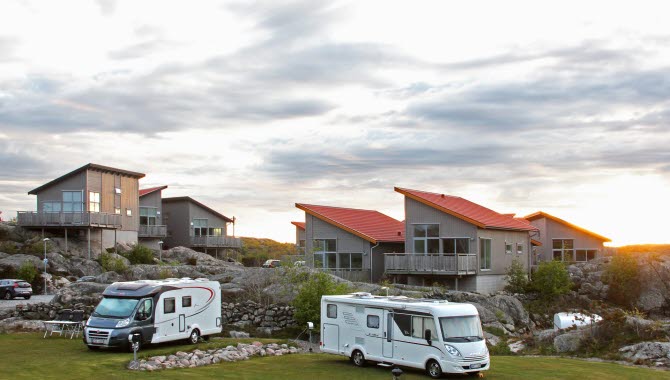 Accommodation options
Family houses are available at Hav & Logi, complete with a well-equipped kitchen, TV and private terrace with stunning views of the surrounding seascape. There are seven beds in each house. One bedroom has a double bed and the second has bunk beds. The other beds are in the loft. Another option is staying at the hostel, with a shared kitchen and TV room. Or stay on the campsite below the hostel or on one of the overnight spaces for motorhomes.
Choose between an 18-hole golf course or the world's most strenuous art walk!
There is lots to do on Tjörn in the summer. Play a round on the 18-hole golf course, go cycling along the scenic cycle paths or admire the art at Pilane. You could combine cycling and art, and set off on the world's sweatiest art trail! Park your bikes outside the Nordic Watercolour Museum and admire the fantastic paintings there. Cycle on to the Pilane grave-field and the sculpture park, Sculpture in Pilane. It offers a rather different experience - exciting art exhibited among grazing sheep. Rent a bike at Hav & Logi, from May to September.