Lotshotellet Käringön
Charming, intimate hotel located in the harbour of the island of Käringön
Lotshotellet is a small but charming and intimate hotel located on the island of Käringön in the southern part of the Bohus archipelago off Sweden's west coast. The rooms are bright and romantically furnished, overlooking the sea and piers. In addition to enjoying the picturesque Käringön you can visit the sauna, take a dip from the hotel's own pier or make a sea excursion.
Feel at home
Lotshotellet contains five rooms and a mini suite. Here you can relax, sleep in a comfortable bed, feeling completely at home. The room called Signe, on the ground floor, is handicap-friendly and very cosy. Astrid, another room on the same floor, has a large balcony with a view of the harbour. On the upper floor you will find Aurora where you can watch the sun come up over the Käringöfjord, and from Olga, the lightest room in the entire hotel, you can see the pier just below. The Greta room has a balcony with a westerly view over the harbour and the setting sun, whereas the mini suite Elin offers a stunning view of the harbour inlet.
The hotel is located on the Skepper islet by the Käringön harbour. The dining hall with its open-plan kitchen, which is the heart of your temporary home, will provide you with a good breakfast buffet in the morning.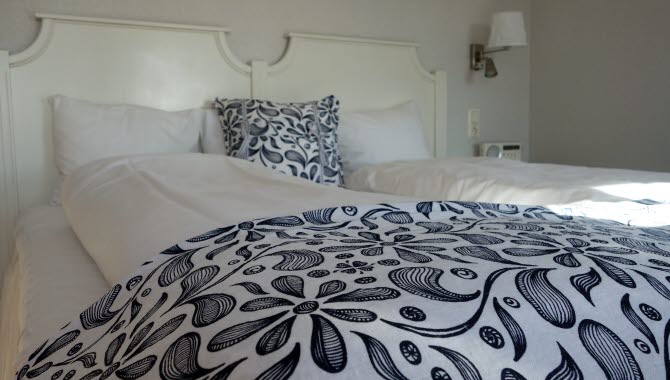 Take a sauna with a view – make a sea excursion
You live just by the sea and have free access to the hotel's sauna. From the sauna there is a marvellous view over the Käringöfjord and only a few steps away is our own bathing pier where you can cool off in crystal-clear waters. Right by the pier you will also find our fast pilot boat 'Låtsbåten'. Climb aboard and the boat will take you on the adventure of a lifetime. You can go on a seal safari or visit the rocky island of Måseskär and its lighthouse, or choose from a number of excursions to many of our favourite spots spread around Käringön.
During summer the pancake shop Créperiet is open at Lotshotellet, where you will be served delicious crepes or crusty galettes – many of them stuffed with seafood.