Smögen Dyk & Upplevelse

Smögen
Sea excursions on your doorstep
Smögen Dyk & Upplevelse is a diving centre at the end of Smögen by Kleven. The courses are designed for beginners as well as experienced divers and you can combine diving, kayaking and snorkelling with basic accommodation right next to the sea.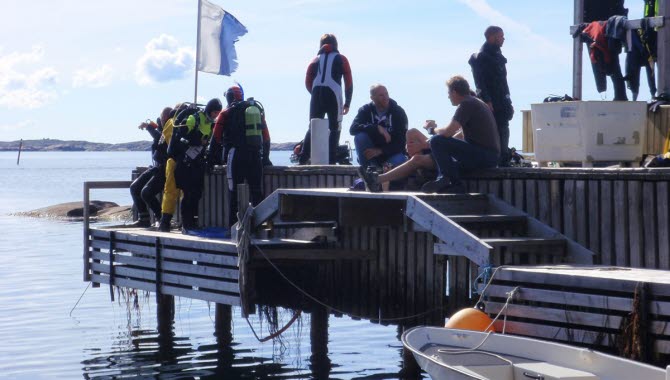 Photographer: Smögens Dyk & Upplevelse
Modern diving centre by the sea
Smögen Dyk & Upplevelse is located on the coast between Gothenburg and Strömstad and offers a great mix of relaxation and activities. Whether you are a novice or more of a diving veteran, you're welcome to visit this modern diving centre that offers a wide range of courses, diving excursions, snorkel paths and kayak rentals. There is also a well-stocked diving shop if you need to add a little to your equipment.
Diving packages with full board
An open boat takes you quickly and easily to dive sites that are only about 5 minutes from each other. The diving package includes boat dives, land dives, air and gas fills and overnight stays with breakfast, lunch and dinner. The diving centre's hostel is right next to the sea and offers basic accommodation in six 6-bed rooms and two 2-bed rooms. You will have access to changing rooms, showers and sauna.
Swimrun, kayaking and Smögenbryggan
Try out one of the diving centre's Swimrun training sessions over rocks and coves - every Thursday during the summer. You can also rent a kayak and paddle out to Hållö, or go on a tour of Smögen's and Kungshamn's beautiful archipelagos.
The very popular Smögenbryggan is within easy walking distance, where you'll find plenty of shopping and restaurants.