Island hopping by bike, Uddevalla – Orust – Ljungskile
Uddevalla is in the heart of Bohuslän, so why not start from here on your next boat tour? Take your bicycle and spend three days on the saddle and the deck. The boat takes you out to Orust where you can explore the coast roads, stay over in charming accommodation and find your own favourite picnic spots.
Day 1 - Boat from Uddevalla to Slussen
It is easy to get to Uddevalla on the train from Gothenburg and it only takes an hour and a half. You are also allowed to take your bicycle on board Västtrafik's trains at no extra cost. If you don't have your own bicycle with you, you can rent one at Uddevalla Tourist Centre.
Take the chance of buying some good food before you board the Skärgårdsbåtarnas tour to Ljungskile, which have daily crossings of Uddevalla's beautiful inner archipelago Saturday and Sundsy 4 July - 9 August. Light refreshments are also available on board. Be there in good time to be sure of a place for your bicycle on board. The archipelago boat M/S Gustafsberg II, which has ferried royalty and celebrities over the years, departs at 10.00 and reaches Slussen on Orust just over one hour later.
Check in at the friendly Slussens Pensionat, which has legendary music evenings in the summer with live entertainment and tasty food. You can go swimming, walking and cycling in the area.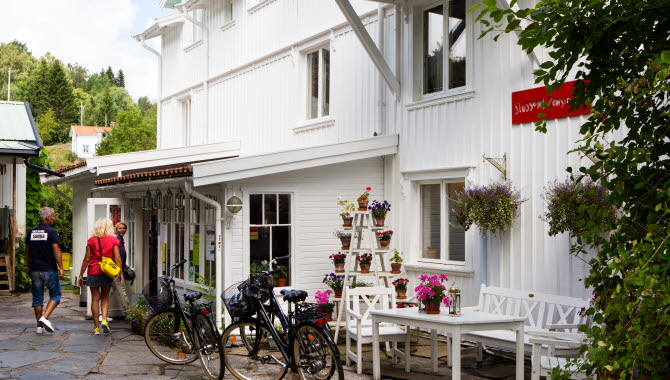 Photographer: Roger Borgelid
Do you fancy a longer bike ride? Cycle over to the west side of Orust and stay the night at Marcel and Johan's design-inspired accommodation in Edshultshall. Their Bed & Breakfast is called Lådfabriken, which is right next to the sea and has colourful, individually designed rooms. You can also eat well and enjoy your stay at Nösunds Havshotell. Find more accommodation on Orust here.
Day 2 - cycle to Lyckorna in Ljungskile
After a hearty breakfast, pack a picnic basket and jump onto the saddle where you'll enjoy most of the day. The first stop is Svanesund and whether you ride from Orust's east or west side, you have a bike ride of about 30 to 40 kilometres ahead of you. There are plenty of great spots to enjoy your picnic basket along the fragrant coastal roads, and this is maybe the time to put on your swimsuit and have a refreshing dip!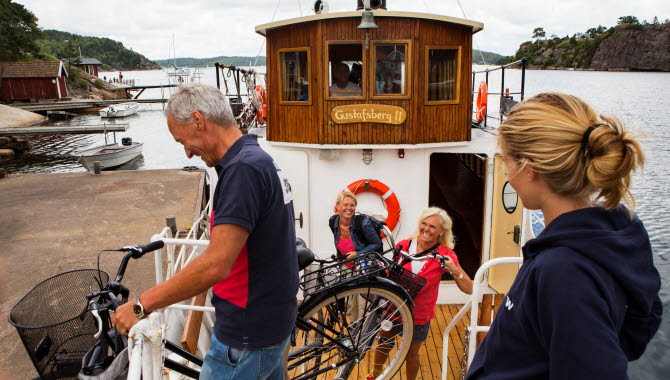 Photographer: Roger Borgelid
Once you arrive in Svanesund you can take the free road ferry over to Kolhättan and cycle further north toward the fine old spa town of Lyckorna in Ljungskile. In the heydays of the resort, high society flocked here to make the most of its balmy climate.
There are many varied options for accommodation on Lyckorna and in Ljungskile. Well-preserved turn-of-the-century charm, with wonderful gingerbread woodwork, decorated ceramic stoves and an idyllic panorama, all come together at Villa Sjötorp. Enjoy a dinner full of the season's treasures and an unforgettable breakfast. Anfasteröd Gårdsvik also boasts a beautiful location, where you can spend the night in a cabin or in a luxury tent with real beds, heating, bathroom, kitchen and a large terrace. For fans of fresh-baked bread, home-made aioli and loads of mussels, a visit to The Mussel Bar in Ljungskile is highly recommended.
Day 3 - Boat or bike Ljungskile - Uddevalla
Time to discover Ljungskile properly! If you've stayed at Anfasteröd Gårdsvik, you'll be up for a kayaking adventure or a long walk in the majestic beech woods. There are many charming boutiques for shopping in the centre of the town, and you definitely deserve an organic coffee break at Café Flora to taste favourite childhood recipes as well as the latest trends in cakes with coffee.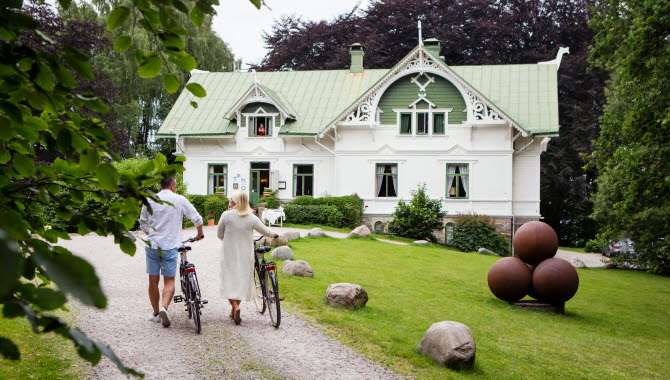 Photographer: Roger Borgelid
The cycle tour continues towards Uddevalla. There are many cafés in and around Ljungskile where you can buy something to eat along the way. The stretch from Ljungskile – Uddevalla is between approximately twenty and twenty five kilometres depending on which route you take.
There are lots of exciting activities and excursions for all ages in Uddevalla and the area around it. Take the chance of getting to know the heart of Bohuslän - stay for a night or two and discover some little gems such as Sweden's oldest seaside resort, Gustafsberg, the famous Strandpromenaden, Bohuslän Museum and the world's largest shell banks. At Bohusgården Hotell & Konferens you're close to the fjord and the view is fantastic. At the Best Western Carlia in central Uddevalla you can stay in a room inspired by the classic Swedish singer-songwriter Evert Taube, or a standard room with bright, comfortable interior. From Uddevalla it's easy to take the train back to Gothenburg.
Here you'll find relevant bicycle maps Uddevalla/Ljungskile, Orust