Island hopping from Gothenburg to Käringön
Island hopping in the beautiful archipelago of Bohuslän will give you some unforgettable experiences. You will find tips here about boat trips, hidden gems, activities and friendly accommodation from Marstrand to Käringön.
Day 1 - Monday: boat to Marstrand
On Mondays and Tuesdays between 6 July and 11 August, Strömma Kanalbolaget sails the M/S St. Erik between Gothenburg and Marstrand. Book your tickets here. On land, the Marstrand Express will swish you along the main road. The trip from Gothenburg to Marstrand ferry port only takes an hour.
There are many reasons why the sailing and seaside resort of Marstrand is a favourite. The quay is a berthing place for boats of all shapes and sizes, there are lovely houses in car-free zones, good restaurants and cafés, sun and sea, music and drama. Carlstens fortress is the crown on the top of the island. Check in to some charming accommodation in Marstrand and finish the day with a tasty meal at one of Marstrand's many taverns.
Day 2 - Tuesday: boat to Klädesholmen/Mossholmen - Take a bike ride and see art on Tjörn
Every Tuesday and Wednesday at 10.10 from 7 July - 5 August, M/S Drott af Dyrön sails from Marstrand in the south to Käringön in the north. The boat stops at several picturesque islands and coastal villages along the way. The tour must be booked in advance, book your tickets with Gunnars Båtturer.
After a half an hour boat trip you arrive at Mossholmen/Klädesholmen, on the west side of the island of Tjörn. There are a number of good cycle paths at Tjörn that take you through beautiful, varied scenery. After enjoying the lovely surroundings, take the opportunity to see some world class art at the Nordic Watercolour Museum in Skärhamn and Sculpture in Pilane.
You can rent a bicycle or book a cycling package here that includes board and lodging and a bicycle at the floating hotel called Salt & Sill on Klädesholmen. You can find more accommodation on Tjörn here.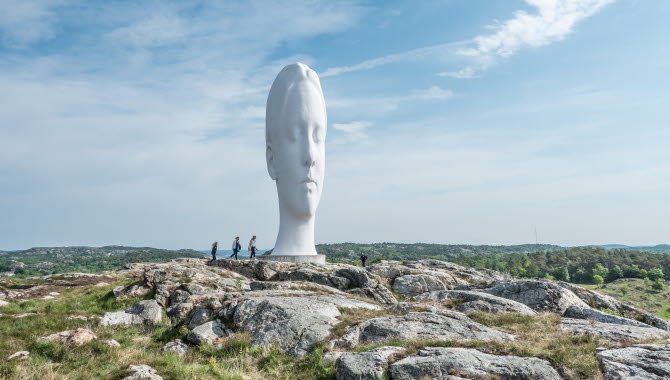 Photographer: Anders Jonsson, Södra Bohuslän Turism
Day 3 – Wednesday boat to Käringön
Take M/S Drott af Dyrön from Klädesholmen/Mossholmen at 10.40 or from Monumentet in Skärhamn 11.10. The boat arrives to Käringön at 12.30. Step off and enjoy this peaceful Bohuslän gem, with beautiful scenery and houses. You can't cycle here, though, and the island has no cars or mopeds. Discover the contrasts on the island; stroll around the dense buildings in the north and the sparsely populated southern part of the island. Book a room and stay for the night on the island at: Lotshotellet på Käringön, Hotell Käringön or Käringöns Logi och bastu and enjoy some great seafood.
The boat from Käringön to Tuvesvik on the closeby island of Orust departs every day. With transfer from Tuvesvik you reach Gothenburg by bus in about two hours.
Here you'll find relevant bicycle maps: Tjörn
Find your island-hops
Bohuslän's archipelago is something special. To help you get a really genuine archipelago experience we've put together both ferry companies and route suggestions that will make your island hops happen.