Spring highlights in West Sweden
Exciting activities, events not to be missed, package deals you simply must book… the best highlights of the spring have been compiled here for you.
Extraordinary events
There is a lot of fun to be had this spring in West Sweden, and some of our favourites are listed below. The full list of events is found here.
6-14 April - The Crane Festival
Leap into the spring with good food, lots of cranes and wonderful scenery at the Crane Festival at Hornborgasjön! There will be a food market with local products, bird guides, local exhibitors, a photo competition and lots more.


April 3 - 7: Gothenburg Horse Show
Gothenburg Horse Show - annual international event with the Rolex FEI World Cup Jumping in Scandinavium. The Euro Horse Exhibition is held at the Swedish Exhibition and Congress Centre at the same time.



April 2 - 7: International Science Festival Gothenburg
With hundreds of activities and about 70,000 visits The International Science Festival in Gothenburg is one of Europe's leading popular science events and the only one of its kind in Sweden.

May 18: Göteborgsvarvet – Half Marathon, Göteborg
Gothenburg is at its prettiest in May, when spring has arrived in earnest. Come and experience the atmosphere in Gothenburg city centre, where 200,000 spectators cheer on the runners and around 50 different musical entertainers line the route along Göteborgsvarvet.
Photographer: Jonas Ingman - M2B AB
The cranes come with the spring
The arrival of the cranes marks the coming of spring at Hornborgasjön, where thousands of cranes touch down every year on their way north. Seeing the crane dance is something very special, a truly fantastic experience. These magnificent birds usually arrive around the middle of March.
Tip! Did you know that cranes live together in pairs their whole lives? Read the article entitled, "10 things you didn't know about cranes" and become an expert on our dear "Grus grus".
Expedition Bohuslän - a real adventure for the curious
Come on a real adventure with Expedition Bohuslän, where you'll see wild animals at Nordens Ark, rock carvings that are absolutely unique at Vitlycke and world-class art at the Nordic Watercolour Museum. Discover exciting local history at the Bohuslän Museum and see Sweden's only underwater national park!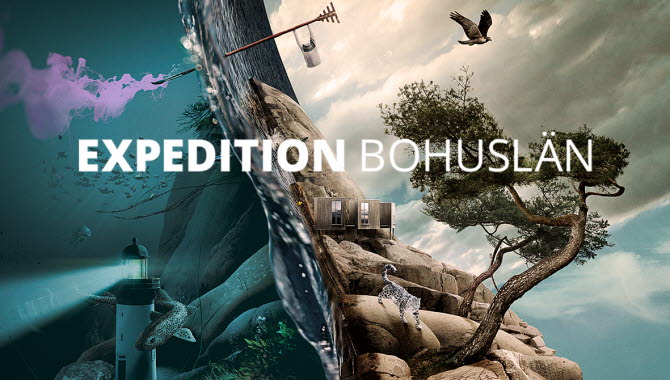 Coffee and cake in the spring sun
Outdoor cafés officially open on 1 April in Gothenburg. It doesn't much matter if it's warm or chilly - it's coffee outdoors in the spring sun that counts. Gothenburg has a huge range of cafés, from Italian coffee bars to the classic Swedish café-patisserie, so just go for your own favourite. Would you prefer your "fika" - coffee and cake - in a garden café, a castle or perhaps a cosy barn? Check out West Sweden's most atmospheric cafés and patisseries here.
Fikavandring in the café town of Alingsås
Join a fabulous "fikavandring" (that's a coffee and cake tour!) in the café town of Alingsås. You'll visit some of the most interesting and enjoyable cafés in Alingsås, tasting divine cakes and pastries on the way. This slice of heaven takes about 1½ hours in all and you can expect everything from tea and coffee, Swedish cinnamon buns, cookies, truffles and pastries to the new trend of dried fruit and nuts to go with your beverage.
Photographer: Jesper Anhede
Walking in West Sweden
The spring is a wonderful time to enjoy the countryside in West Sweden. Explore the footpaths around where you are staying or join one of the organised walks that take place in the spring.
Tip! The largest walking event in Sweden takes place on 27-28 April: the Linné March in the beautiful Rya Åsar nature reserve, attracting participants from all around the world.
Photographer: Roger Borgelid
Cycling in West Sweden
There are many opportunities for cycling enthusiasts to explore West Sweden, from "island-hopping" in Bohuslän to rolling alongside the Göta Canal at a leisurely pace. Plenty of scenic routes will take you through the varied landscapes: huge forests, open fields, canals, lakes and the exceptional coast. Add a touch of luxury by staying at comfortable guest houses and enjoying some of the great local food.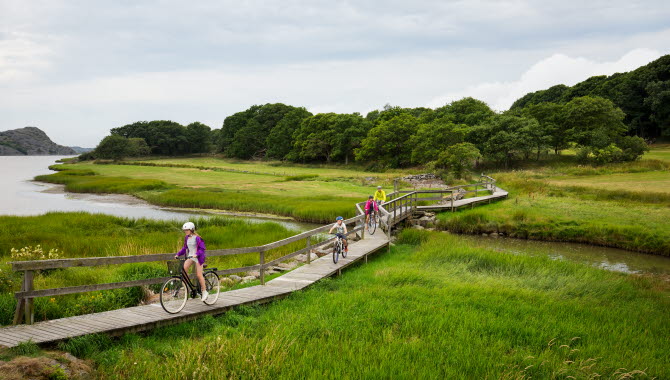 Photographer: Roger Borgelid
The best kayaking in the spring
Bohuslän has one of the finest coastlines in the world for kayaking. From the Gothenburg archipelago in the south to the Koster Islands in the north, Bohuslän has an enormous variety of stunning waters for you to glide through. There is something for everyone here.
Those who prefer a canoe have a great opportunity of enjoying nature at its best - wild, unspoiled and accessible. Be the adventurer; live the calm and wilderness in Dalsland.
Island hopping in the spring
The archipelago islands and coastal villages start coming back to life from Easter onward. Enjoy the sea winds, good food and lovely walks among the coastal rocks and paths.
You can take a boat to the small island of Dyrön any time of the year and enjoy its wide open views, enchanting walks and maybe catch a glimpse of the mufflon sheep. Round off your trip with an invigorating sauna.
Suggestions: A day trip to Dyrön or a 3-day tour with good food and walking
The Gothenburg archipelago with its harbours and bays, skerries and friendly locals is just a short boat ride away. Don't miss such a unique opportunity - the boats sail all around the year, with some departures from Stenpiren in central Gothenburg. Suggestions: Island-hopping with your bicycle in the northern Gothenburg archipelago, Day trip to Styrsö, Island-hopping in the Gothenburg archipelago, Day trip to Brännö.
Spring seafood pleasures
There are many connoisseurs who consider seafood in Bohuslän to be the best in the world. Do you share their enthusiasm for such delicacies? There's a wide range of packages for enjoying seafood here, such as oyster safaris or mussel picking in the daytime followed by a relaxing evening with a delicious seafood dinner, lovely drinks and a good night's sleep in a hotel bed.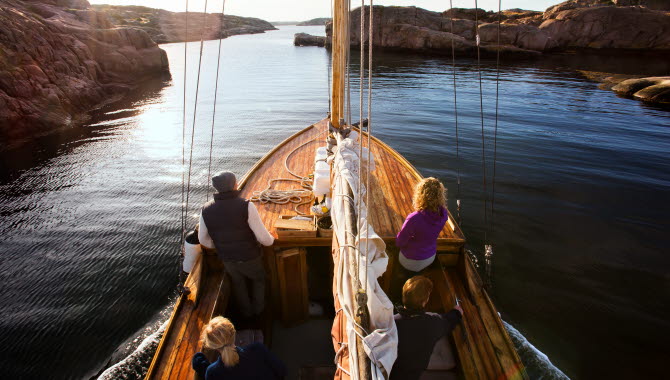 Photographer: Roger Borgelid
Gothenburg – the spring city
In Gothenburg you're never far from nature. Enjoy Scandinavia's finest parks and gardens, stroll through cosy inner-city precincts and take advantage of the city's waterfront location. You can also do cliff-climbing at some of Sweden's best spots, or take on some great trails on your mountain-bike. Gothenburg is packed with green experiences and fast-paced adventures.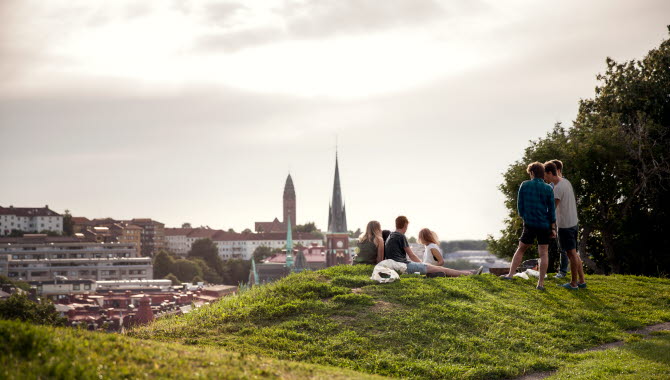 Photographer: Superstudio D&D/Göteborg & Co
West Sweden's attractions open for the season
Palaces, fortresses, canals and world heritage sites are examples of all the attractions that open during the spring. Below are some popular ones, all worth a detour. Find more attractions here.
April 6 – Läckö Castle – baroque castle by Lake Vänern opens for the season
Läckö Castle is located on a peninsula in the Eken Archipelago, by Lake Vänern just outside the town of Lidköping. Here you can take a guided tour, visit the castle garden, attend a concert or dine at the Hvita Hjorten restaurant – and much more.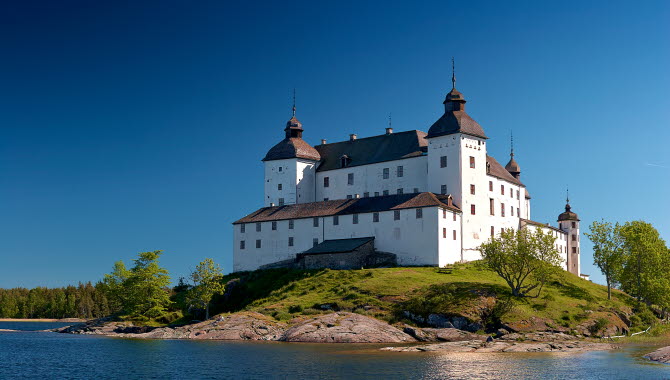 Photographer: Jonas Ingman - M2B AB
April 18 – Vitlycke opens for the season
The Vitlycke Museum, with its unique rock carvings, opens for the season, with a fun and fascinating programme during the Easter holidays. Don't miss it!

April 27 - Liseberg Amusement Park opens for the season
All sorts of rides and attractions, hundreds of thousands of flowers, cuddly rabbits, plus food, drink and entertainment on various stages. Liseberg offers something for everyone. It's simply the most fun in Scandinavia.
May 2 – Göta Canal opens for the season
The Göta Canal is one of Sweden's greatest civil engineering projects and attractions. Here you can enjoy watercraft and people, activities and relaxation.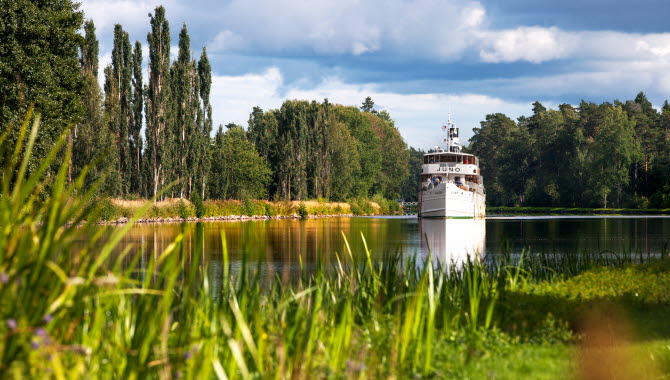 Photographer: Åsa Dahlgren
Meet the locals - discover everyday life in someone else's feet
There are many ways to get close to everyday life in West Sweden and it is not as complicated as you might think. At Meet the Locals, different private people share their everyday lives. Some of them are sketched out below:
Walk around the lake in Norsesund or bake Swedish cinnamon buns with Anna
Check out the graffiti in Hisingen/Ringön with Jonathan
Join Lotta on a bicycle trip along the Göta Canal.
Find more locals, get more tips and read intriguing stories at Meet the Locals.