First Camp Hökensås

Tidaholm
Countryside camping for nature lovers
First Camp Hökensås in West Sweden, is renowned for its beautiful surroundings and exceptional fishing. The nature conservation area around the holiday village is rather special, with its sparse coniferous forest, great for walking, and many small meres and lakes where you can fish for rainbow trout and salmon trout. Look forward to a good evening meal in the restaurant.
Comfortable camping accommodation
You can stay in your tent, caravan or motorhome, or rent a cottage at First Camp Hökensås. There is a choice of basic camping cabins and more spacious cottages with a shower and toilet. The camping pitches are large with natural borders between them. There are also nicely maintained season pitches. Two service buildings provide toilets and showers, one of them also having a sauna and a spa bath.
Go walking and swimming, challenge friends and family
Not only fishing - you can also explore different walking paths close to First Camp Hökensås. Lilla Havssjön, an easy walking distance away, is a small lake with a nice beach and piers. There is a mini-golf course in the middle of the holiday village, where you can challenge friends and family to a round.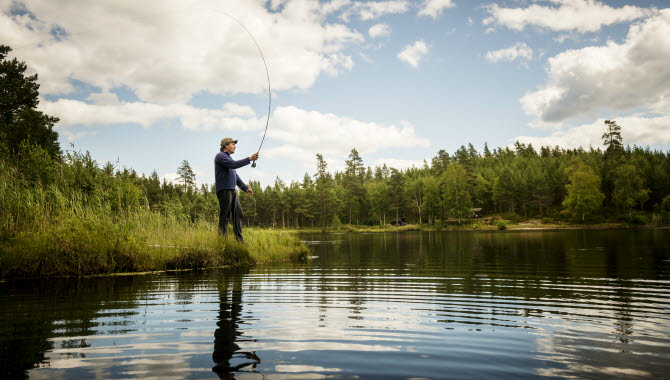 Work in peace and quiet
You have good conditions at First Camp Hökensås to work in peace and quiet. There is a conference hall for up to 40 people and three smaller seminar rooms for 10-14 people. A large number of activities for conferences are arranged in cooperation with Hökensås Sportfiske for all different ages and interests.
InfoPoint
Would you like more ideas about what you can find nearby? This camping is a certified InfoPoint where you can pick up brochures and maps and knowledgeable staff can help with your questions about the area.