The Ätradal Trail

Falköping - Falkenberg
A cycling trail for all food, nature and culture lovers
Scenic Ätradalsleden offers open landscapes, miles of forests and glittering lakes. The cycle path runs between Falköping and Falkenberg, mostly on car-free, disused railway embankments. Along the way you can enjoy great food and many interesting places to visit.
Cycling Ätradalsleden is a wonderful holiday activity suitable for families with children, couples and groups of friends. There are many affordable package deals with comfortable accommodation and ready-made suggestions for excursions (see more below).
Photographer: Jonas Ingman / Torpa Stenhus
Like cycling around in an Änglagård movie
The Ätradalsleden stretches from Falköping in the north to Falkenberg in the south, where it connects to the Kattegattleden. The entire trail is 199 km, of which 95 km consists of completely car-free, disused railway embankments. The remainder is small country roads that meander through beautiful and varied countryside.
The Änglagård (House of Angels) films were a huge hit in Sweden and filmed in this area. It is easy to imagine you're in one of the dreamy film sequences when you walk or cycle past the lakes and fields, or the picturesque farms and cottages. If you want to see more of the locations from the films, it's easy to make detours along the small gravel roads that crisscross the whole region.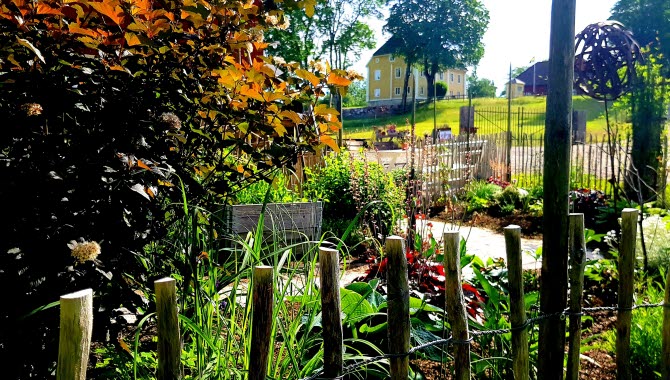 Photographer: Peter Claesson / Hemma på Källebacka
Take a break at charming farm cafés
Possibly the best thing about the area around Ätradalsleden is all the cosy cafés. You never need to cycle far before the next delightful farm café or restaurant shows up. Perfect for taking a break and refilling with locally grown food and home-baked cakes.
Just a few of these wonderful places to eat are Vilhelmsro Gårdscafé, Hofsnäs Herrgård, Kafé Sjöparken, Hermans Lada and Påarps Gård. Another tip is the farm shop and café Hemma på Källebacka just south of Ulricehamn, which is well worth a visit for great food and interior accessories. The house there was also in several of the Änglagård films! North of Ulricehamn in Dalum there is a good country grocer in case you need to restock your supplies.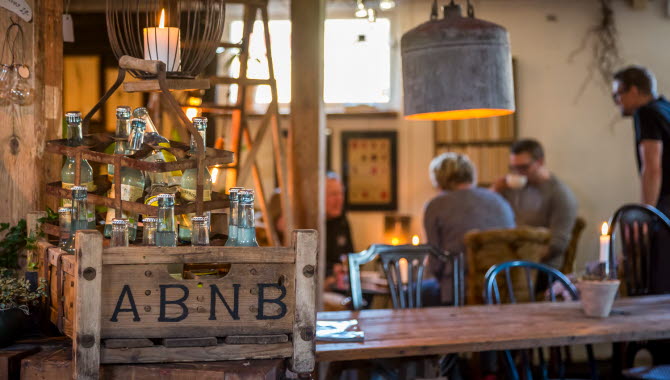 Photographer: Hemma på Källebacka
Beautiful countryside and cosy accommodation
There are several wonderful nature reserves along the trail, including Frälsegården, Baktrågen, Torpanäset, Korpebobergs and the Fegen nature reserve. There are also plenty of cosy places to stay, from working farms to lakeside cottages, or country hotels in small towns and villages.
Read more: All about cycling the Ätradalsleden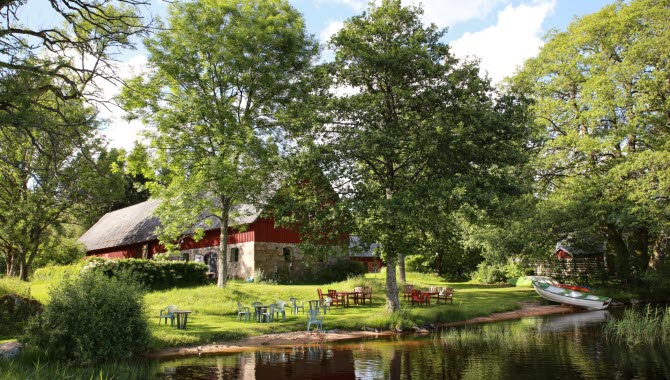 Visit a ghost and learn to blow glass
As if all the beautiful countryside and good food wasn't enough there are also a plenty of historical and cultural places to visit along the Ätradalsleden. Take a guided tour and meet the infamous castle ghost at Torpa Stenhus, blow your own glass at Glasets Hus in Limmared, live the Stone Age life at Ekehagens forntidsby and take a dip at Ulricehamn's Kallbadhus (cold bathing house!) – where you can also get a massage and a toasty sauna!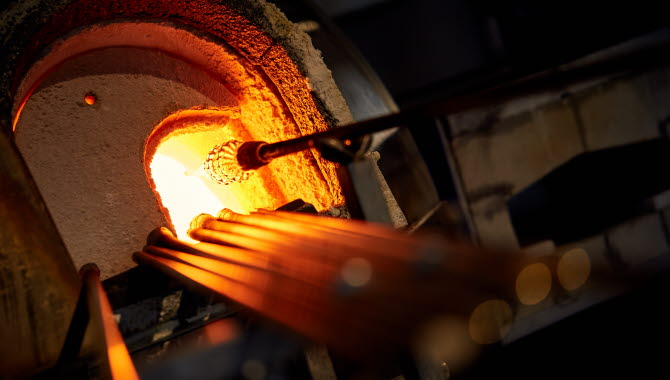 Photographer: Jonas Ingman / Glasets Hus
Choose your starting point
The trail can be divided into four stages. The sections Falköping-Ulricehamn, Ulricehamn-Tranemo and Tranemo-Ambjörnarp run exclusively on old railway embankments. Of course, there haven't been any trains for years and the embankment is now a wonderfully flat, paved cycle path.
The stretch from Ambjörnarp to Falkenberg is on low-traffic country roads, and this stage is not so suitable for children.
You can join the trail wherever you want, some good starting points are Falköping, Ulricehamn, Tranemo, Fegen, Svenljunga and Falkenberg. Falköping and Falkenberg are easy to reach by train.
Here is a digital map of Ätradalsleden and printed maps are available at tourist offices. Note that the trail is not signposted, so it's a good idea to take a map with you.
Popular cycling packages along the Ätradalsleden
Around Lake Åsunden

Skotteksgården Camping & Stugby, Ulricehamn
This tour takes you on a scenic bike ride around the long and narrow Lake Åsunden, with views of spruce covered hills, and through two nature reserves.
The package includes: Overnight accommodation in a lake bungalow or camping barrel, breakfast, packed lunch, bicycle and map.
Don't miss: Make a stop in the dappled light of Korpebobergs deciduous forest and take in the beautiful views of Lake Åsunden
Cycling and hiking in Ulricehamn

Lassalyckan, Ulricehamn
Get yourself out in nature with your cycling kit or hiking boots. We have fantastic hiking trails and cycling routes, for both MTB and road cycling, right on the doorstep.
The package includes: accommodation, dinner, breakfast, fika, gym and sauna.
Don't miss: relaxing in the sauna after a hard day on your bike.
Tips for more cycling adventures
West Sweden is a popular destination for cycling. Discover all the heart racing mountain bike trails, meandering coastal roads and family friendly cycle paths.