Olivia Eko B&B, Bitterna

Vedum/Vara
Farm accommodation in a cultural landscape
Olivia Eko B&B in Bitterna lies in a traditional cultural landscape surrounded by fields where sheep and cows graze in the summer months. You have a lovely view of the fields from the farm's B&B and for those who wish to, you are welcome to help on the farm. You can also pick berries or vegetables to take home when they are in season.
Organic family company
Olivia Eko B&B is a small family company in the countryside, just outside Vedum in Vara municipality. Berries and vegetables are cultivated on the land and the farm also has sheep, free-range hens, cats, pigs and cows. The honey comes from its own beehives and Olivia Eko's products are certified organic and produced under the adage, "Always ecological, always local ingredients, no additives at all".
B&B open all year round
Olivia Eko B&B now has a large family room on the second floor of a new building, with a view over the fields of crops. The room has a sofa group, TV, double bed, space for extra beds and self-catering. There is an en suite toilet and sink and a shower on the ground floor. The B&B is open all year round, but book in advance or call before you arrive.
Well-stocked organic shop
The shop sells the farm's own cold-pressed, flavoured rapeseed oil, honey, lamb, sea buckthorn marmalade, various juices, rhubarb cordial, flowers and eggs.
At the end of August/beginning of September you can pick your own sea buckthorn and during the autumn you can bring your own apples for pressing. On Fridays there is a farm market - give them a call for opening hours.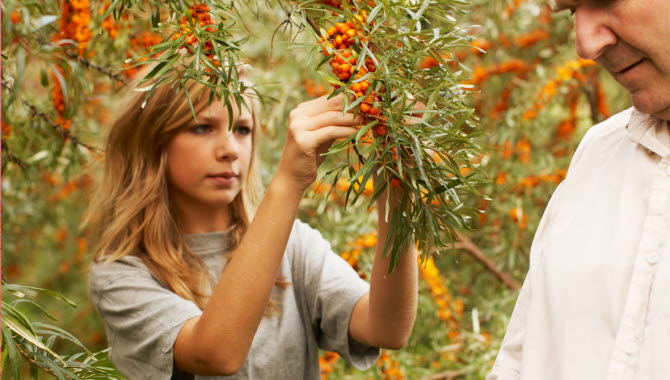 Photographer: Carina Örarbäck