The Dalsland Canoe Marathon (DCM) is one of the world's biggest canoeing races and takes place in August each year. Everyone is welcome, regardless of whether they are a recreational competitor, an elite competitor, or a passionate spectator.
What is the Dalsland Canoe Marathon?
Scandinavia's biggest canoeing and kayaking race and Dalsland's number one public event takes place in August each year. Around 500 competitors set off on the 55 km course from Baldersnäs Manor to Bengtsfors in a single-person kayak, a two-person kayak, or a Canadian canoe. Although the focus is mainly on recreational competitors, the race also attracts the very best in the world. Throughout the race day and during the evening, the area around the finishing line in Bengtsfors is packed with fun activities for both competitors and spectators. Challenge yourself and your family, friends and colleagues in this remarkable lakeside adventure!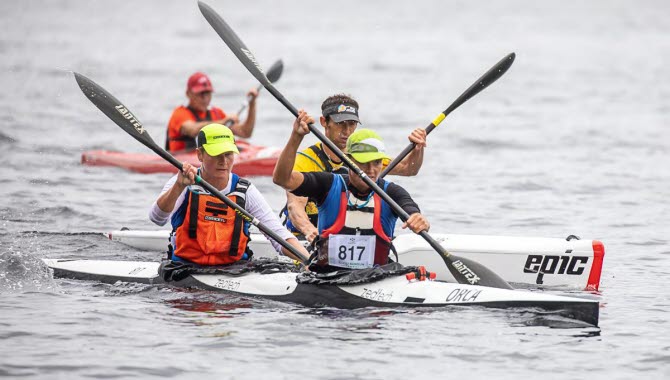 Photographer: Marie Leander
When does the race take place?
Saturday, August 10, 2019.
Categories
There are different categories and a choice of two distances, 55 km or 20.7 km. There are also junior and veteran races over the shorter distance.
The main categories are:
DCM Single (55 km)
DCM Duo (55 km)
DCM Relay Single (55 km)
DCM Relay Duo (55 km)
DCM Open (55 km)
DCM Single (20.7 km)
DCM Duo (20.7 km)
The DCM 55 km race starts at 8am at the marina at Baldersnäs Manor in Dals Långed. All the competitors set off at the same time and they have 11 hours to make their way to the finishing line at the marina at Bengtsfors. The DCM 20.7 km race starts at 11am in Gustavsfors.
Course
Dalsland is the province in Sweden with most lakes, and the Dalsland Canoe Marathon passes four of the most beautiful of these lakes: Laxsjön, Svärdlång, Västra Silen and Lelång (55 km race). The first canoe lift and pit stop are at the 7 km point in the small village of Skåpafors. Three more lifts and pit stops await the competitors, plus an additional pit stop in between. Buoys are used to indicate a suitable route. Red escort boats are in attendance in case of emergency. You can see a map of the route here.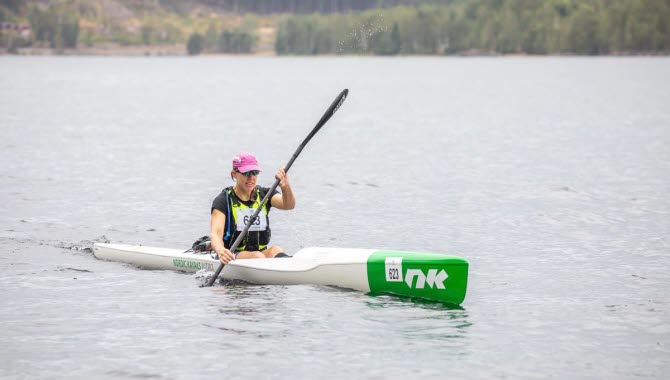 Photographer: Marie Leander
Entry
Entries will be accepted up until the day of the race.
Did you know?
The Dalsland Canoe Marathon started back in 2004 and takes place each year on the second Saturday in August.


It is one of the world's biggest canoe races and attracts competitors from all over the world (19 different countries).


The race is organised by Camp Dalsland, a non-profit association that also arranges many other races, including Dalsland X-Country, Dalsland Swimrun, Dalsland X-Trail, and Dalsland Gravel Race.


You can complete what is known as the 'Dalsland Classic' by taking part in Dalsland X-Country (mountain biking), Dalsland Canoe Marathon (canoeing) and Dalsland X-Trail (trail running).


In the evening, after everyone has made it to the finishing line, food is served as part of a festive 'après-canoe' event. Not to be missed!
West Sweden Action Weeks bring together a series of races for running, canoeing, cycling, swimming, and roller-skiing enthusiasts of all ages and abilities. We offer experiences and surroundings that are truly amazing. A memorable occasion for competitors and spectators alike, and with a firm emphasis on sustainability.