Island Race – Gothenburg Swimrun
Öloppet (Island Race) in Gothenburg's southern archipelago is the world's biggest swimrun event. The race is aimed at both elite and recreational swimmers, with a course that starts on the island of Styrsö and then takes in the islands of Brännö and Vrångö.

What is the Öloppet?
The Öloppet is a swimrun event where you compete as part of a two-person team. The aim is for the team members to alternate between swimming and running along a marked course that passes many of the islands in the Gothenburg archipelago. It involves switching frequently between running and swimming, and it is the variation that adds to the charm of swimrun. The Island Race caters for both elite competitors and beginners alike. It also attracts lots of spectators.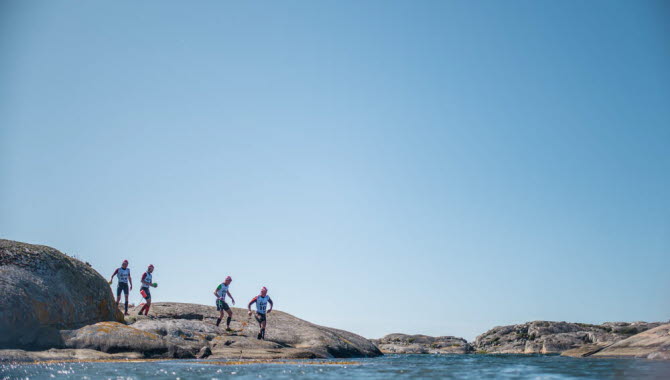 Photographer: Jakob Edholm
When does the race take place?
Saturday August 1, 2020.
Categories
There are three distances to choose from:
Öloppet – 40 km, of which 5.7 km is swimming.
Öloppet Sprint – 22 km, of which 2.6 km is swimming.
Öloppet SuperSprint – 7.7 km, of which 910 metres is swimming.
Each distance has a women's category, a men's category and a mixed category.
For the younger enthusiasts there is Island Race Junior – 1.9 km in total, of which 40 metres is swimming.
Course
The long Öloppet course covers the whole of Gothenburg's southern archipelago. The race starts on the island of Styrsö, before crossing to the island of Brännö and down to Vrångö, finally returning to the finishing line on Styrsö. The longest continuous swimming stage is just over one thousand metres. The race involves getting in and out of the water on numerous occasions, and there are fluid and energy replenishment stations at certain points.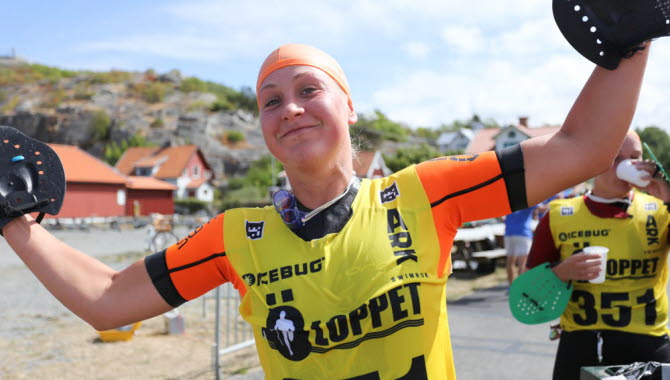 Photographer: Event Exposure
Entry
The closing date for entries is Sunday, July 28, 2019.
Did you know?
The very first Island Race was held in 2012 after four friends, Henrik, Henrik, Jonathan and Helena, tried the then relatively unknown sport of swimrun. Together they decided that it was high time more people had the chance to discover this incredibly challenging sport.


The Island Race has grown into the world's largest swimrun event.


It is important to have the right equipment when competing in a swimrun event. All competitors must have a wetsuit, whistle, first-aid kit, and swimming cap. Swimming goggles and hand paddles are also permitted.
West Sweden Action Weeks bring together a series of races for running, canoeing, cycling, swimming, and roller-skiing enthusiasts of all ages and abilities. We offer experiences and surroundings that are truly amazing. A memorable occasion for competitors and spectators alike, and with a firm emphasis on sustainability.