Jochnicks Hälsa

Lysekil
Invigorating SPA treatments next to the sea
When you need to recover and find new energy, Jochnicks Hälsa offers SPA treatments and massage by the salty waters of Bohuslän. Choose between Gullmarsstrands Hotell & Konferens in Fiskebäckskil or the salon in Lysekil, and treat yourself to a very pleasurable experience.
Enjoy your SPA, massage and wonderful treatments
Welcome to delightful times for body and soul. Jochnicks Hälsa has two salons located next to the sea with stunning archipelago views: Gullmarsstrands Hotell & Konferens in Fiskebäckskil and the salon on Södra Hamngatan in Lysekil.
A wide range of wonderful treatments is awaiting you! Choose between a calming massage or a luxuriant SPA treatment, a relaxing pedicure and facial; waxing, stress reduction, eyelashes and eyebrows. Book a Day Luxury package at Gullmarstrand and breakfast, lunch and dinner will be included, as well as access to Sinnenas Havsbad.
You can easily book a massage or SPA treatment online HERE!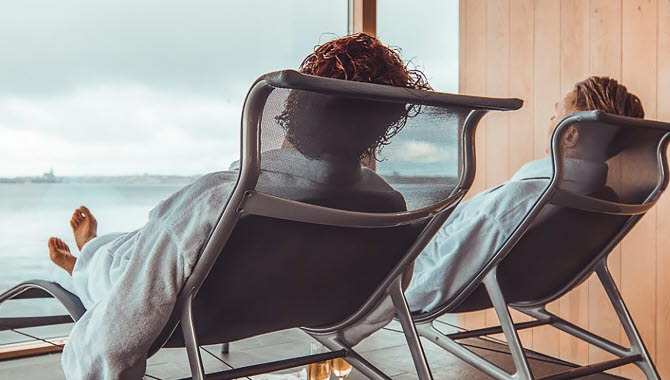 Photographer: Jochnicks Hälsa
Environmentally friendly skin care
Jochnicks offers its customers treatments for health optimisation that stimulates the brain, heart, intestines, muscles and joints.
Jochnicks Hälsa give you skin care that is kind to the environment as well as your skin. Only organic skin care products are used with high-quality biological plant extracts, oils and herbs.
All packaging is recyclable.
Shop with organic products
The shop has a great selection of health and beauty products with organic skin care from reputable brands. Scented candles made from environmentally friendly soy wax and products that increase your harmony and immune system.
Photographer: Jochnicks Hälsa
In safe hands
COVID-19: Jochnicks Hälsa follows the Swedish Public Health Agency's recommendations and takes all possible precautions: disinfection of the room and employees' hands, visors and masks used whenever required.