Bohus Path Section 3

Skatås - Kåsjön
8.3 km, medium
The third section of the Bohus Path goes between Skatås in Gothenburg and Kåsjön in Partille municipality. This section also coincides with the Vildmark Path.
Quick facts
Length: 8.3 km
Duration: about 3 hours
Level of difficulty: medium
Terrain: forest paths, gravel roads and asphalt roads
Härlanda mere
Skatås is a popular exercise centre and has many different activities to offer. You can also find accommodation at Lisebergsbyn Camping. Just after Skatås you arrive at Härlanda mere, which has good swimming and barbecue facilities as well as a popular nature playground. Birding enthusiasts will want to make a detour of about 400 metres from the path to Svarttjärn where there is an observation tower. From here you can see coot, goldeneye, moorhen and mallard, among other species.
Great views of Gothenburg
From the top of Getryggen you have a beautiful view of Gothenburg and Sävedalen. The rare clock gentian with its beautifully clear blue flowers blooms here in late August. There is a shelter that is suitable for a break or an overnight stay.
Knipeflågsbergen is a wide primary rock plateau on the edge of the Delsjö area where you can walk along dramatic gorges in a mix of smooth rocks and verdant broadleaf forest. In the nature reserve there are good chances of spotting large game such as elk and deer as well as smaller animals such as hares, foxes and badgers.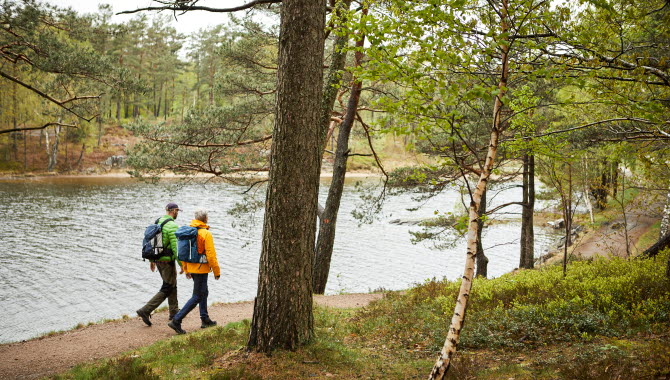 Photographer: Jonas Ingman
Legendary Blacktjärn
Further towards Kåsjön, the path goes past the legendary lake of Blacktjärn, supposedly guarded by seven invisible beings. If you stand on the shore and call out to the lake, you'll hear an answer immediately. There is also a saga about a water nymph who guards a fantastic treasure in the depths of the black waters.
Fact about the trail
Length:
The section is about 8½ kilometres long.
Approximate times:
The section takes about 3 hours to walk (excluding breaks).
Marking:
There are orange markers along the footpath on trees and poles, which makes it easy to find your way in either direction on any of the sections. At the beginning of each section an information board shows distances on a map with various symbols, as well as conditions regarding the right to roam (allemansrätt).
Level of difficulty:
The path is classified as easy to medium but has some steep parts. The whole distance of the path is parallel to Vildmark Path and the surface varies between gravel roads, forest paths and asphalt.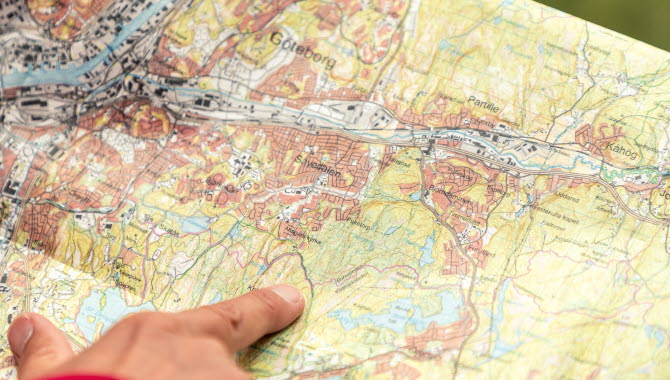 Photographer: Lukasz Warzecha
Start and end:
Section 3 of the Bohus Path starts at Skatås exercise centre in East Gothenburg.
How to get here:
The Skatå exercise centre is only a tram ride from the centre of Gothenburg. Take tram line 5 (the stop is at Welandergatan, about 1 km from Skatås).
There are also plenty of parking spaces at Skatås.