Jonsereds Trädgårdar/Gardens

Jonsered
Modern 19th-century garden in beautiful manor setting
Jonsered's Gardens are only a 15-minute drive east from central Gothenburg. The park's gardens have a clear 19th-century theme and the traditional manor house has a café and a full programme all year round.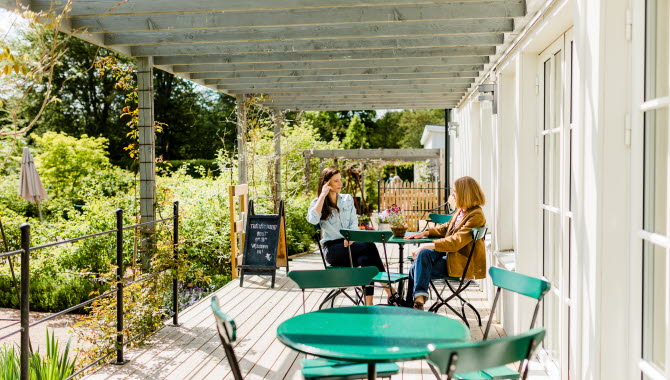 Photographer: Monika Manowska
Award-winning gardens
The popular Jonsered's Gardens are in a beautiful manor house setting. It only takes 12 minutes on the commuter train from Gothenburg Central Station to the stop at Jonsered station, then follow the signs for Jonsered manor.
The heritage from the 19th century has clearly inspired the park's master gardener. Welcome into an oasis of period summer flowers, beautiful perennials and dense privet hedges, arbours with fragrant rose bushes, grand urns set around topiary shrubs, stone-edged islands and organic crops of vegetables and spices. In 2015 the Jonsered's Gardens won the Elmia Inspira award for "Sweden's most inspiring park".
Gardens with café and events
Organic cultivation and social responsibility are clear priorities here and you can stroll between garden sections with different plants and themes, including the design garden, kitchen garden, English rose garden and exhibition garden - where Anna Mannheimer and Thomas von Brömssen created their "guest gardens".
Enjoy a light lunch or coffee and cake at the popular Garden Café where organic, local produce is on the menu. The garden has free admission, arranges different events and is open all the days of the year.
Nature experiences and beer-tasting nearby
You can go fishing, kayaking and swimming in the river Säveån and lake Aspen, and there are barbeque facilities when you start to get hungry. The local brewery, Poppels is also in the area.
The Gotaleden path between Gothenburg and Alingsås passes Jonsered and offers a lot of varied walking through grand countryside.