Stenungsbaden

Stenungsund
Invigorating activities and relaxing spa
Stenungsbaden has served its guests the good life on this little island since 1963. Take out your golf clubs and play on one of five nearby courses, or perhaps another invigorating activity at the Bluewater Sports & Health Club. If what you need is relaxation then stretch out on a comfortable sofa in the spa area or treat yourself to a warm oil massage.
Challenging workout and relaxing spa
Challenge yourself on the Stenungsbaden obstacle course, follow the jogging path or have a real burnout training session. That wonderfully tired but good feeling afterwards deserves a jacuzzi, a spa pool or a sauna as a reward. You'll find wonderful therapies from head to toe in the treatment list.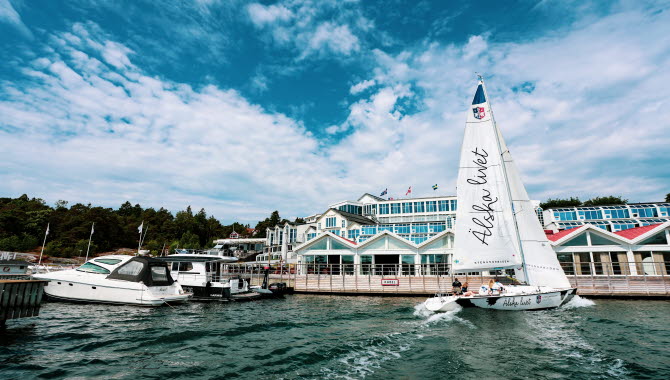 Photographer: Erik Nissen Johansen
Swedish food with American influences
The restaurant serves delicious food that is easy to recognize. The menu is based on the Swedish cuisine with a twist from the American east coast. The seasons have their influence on the menu, of course, and whenever possible organic ingredients are used from the surrounding area.
Room for all your needs
There are rooms here for all groups and requirements. All of them include an organic breakfast, WiFi, parking and first-class service. To ensure you get the full treatment, there are great deals that include entrance to the spa and full or half board. Book a complete hotel package or tailor your own package with dinners and activities.
Conferences by the sea with RIB trips, seafood and spa
Stenungsbaden has top-class conference rooms with breath-taking views that encourage creative ideas in a beautiful environment. Choose a conference package that suits your group that includes accommodation, good food, exciting activities such as RIB trips, an obstacle course, outdoor jacuzzi and spa.
InfoPoint
Would you like more ideas about what you can find nearby? Stenungsbaden is a certified InfoPoint where you can pick up brochures and maps and knowledgeable staff can help with your questions about the area.