Kuststigen Anneröd - Bovallstrand

Sotenäs
6 km, moderate
This stage of the Kuststigen from Anneröd to Bovallstrand (stage 2 of the Soteleden) starts in the lovely beech forest nature reserve before taking you through picturesque fishing villages, by lookout points and past ancient remains all the way to Bovallstrand.
Quick facts
Length: 6 km
Timing: approx. 1-2 hours
Difficulty: moderate
Terrain: forest paths and some hilly sections

West Sweden's northernmost beech forest and lovely sea views
This stage starts in Anneröd Hogsäm, which with its beautiful beech forest is a popular area for walkers. From here the hike takes you through very varied landscapes, including coastal villages, coniferous and deciduous forests and up hills with great views.
Along the way you'll pass several huts and shelters, such as the one by lovely Stensmyren tarn. Don't miss the fantastic view of the coast from Hogsäms myr and the view of the Bottna fjord and Bottna valley by the Klåvanestugan hut. There are lots of prehistoric remains along this stage. You'll find rock carvings, a stone circle and three cairns at Säm and rock carvings and burial mounds by Tossene church.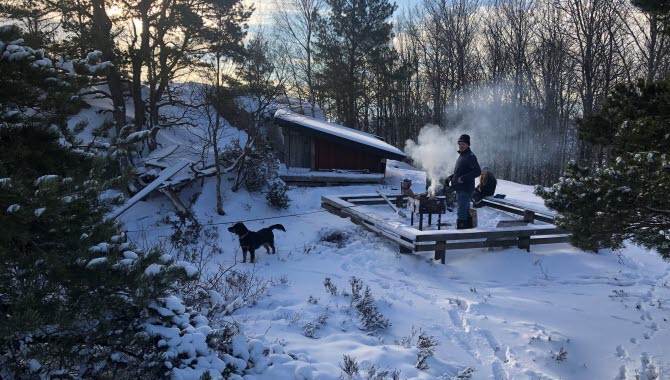 Explore Bovallstrand
In Bovallstrand, a typical West Coast fishing village, you can stroll among the traditional turn of the century buildings and enjoy a salty dip in one of the popular swimming spots. There are many original buildings from around the turn of the 19th century, with unique decorative exterior woodwork, to admire in the village. Stone terraced walls, steps, gateposts and pillars in cut stone bear witness to the time when Bovallstrand was a stone cutting town.
Photographer: Jonas Ingman
Fact about the trail
Length:
This stage is 5.6 kilometres long.
Approximate times:
This stage takes around 1-2 hours to walk.
Marking:
This stretch is part of both the Kuststigen and the Soteleden. The Kuststigen is waymarked by name and in blue. The Soteleden is waymarked with blue/white marks on posts and trees and cairns in some places. There are good maps of the path (see more under Maps).
Level of difficulty:
This stage is classed as moderate and consists mostly of forested terrain but also some hilly sections. The terrain can be boggy and steep in parts.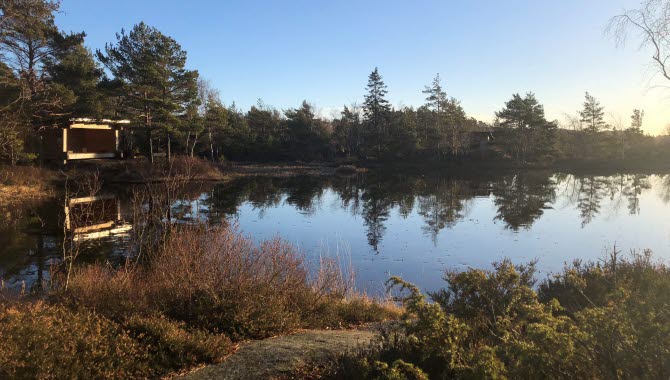 Start and end:
This stage starts at Anneröd nature reserve. There's a car park, and the Brygge bus stop is situated right by the trail.
How to get here:
You can travel there by bus or car. It's approximately 90 minutes by car from Gothenburg. The 862 bus from Hallinden to Smögen stops here. From Uddevalla it takes about 1 hour by bus, changing at Hallinden.
Map:
A digital map of the trail can be found on Google Maps and the Sotenäs website. Map brochures can be purchased in, amongst other places, Tourist Information Centres in the area, and be downloaded from the Sotenäs website.