Konditori Bagare Brage

Tibro
Traditional café with a retro atmosphere
Konditori Bagare Brage is a café with a wonderful retro feeling that comes from the history of high quality furniture manufacturing in the area. Sit back and enjoy pastries, cakes, bread, speciality sweets, sandwiches and salads in the patisserie's classic, comfortable Tibro furniture.
Café with wide selection of cakes baked on the premises
Take the weight of your legs and enjoy a cup of coffee or a breakfast buffet - alternatively you can book a classic Afternoon Tea with family and friends. The patisserie's ingredients are carefully selected and there are many wonderful delicacies to choose from, including breakfast rolls, sweet buns and sandwich layer-cakes, cinnamon buns, speciality sweets, biscuits, cakes and salads. The patisserie bakes its products every day it is open so you always have freshly baked buns and sweet cakes to go with your coffee, tea or drink.
Conferences with coffee and cakes, lovely porcelain and Tibro furniture
Bagare Brage has been at the same address in Tibro since the early 1950s. Regulars and new customers come back again and again, for the café's wide range of amazing cakes and the authentic retro feeling that comes from carefully selected details, both in the interior design as well as the choice of china-ware.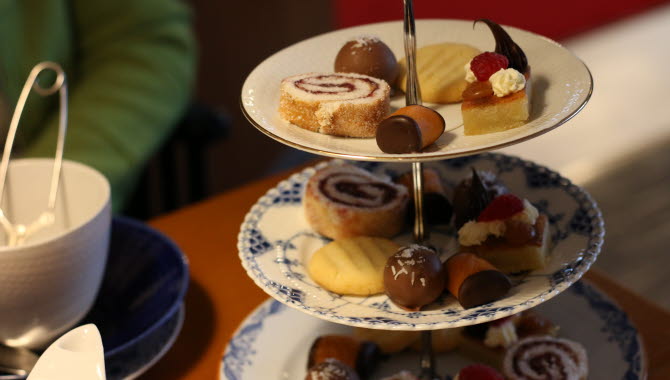 Photographer: Peo Andersson
Enjoy your coffee and cake in a setting reminiscent of the 50's, 60's and 70's, complete with a terrace that is open during the summer season. If you have a group that wants to arrange a conference, a family gathering or meeting, Brage Bagare also has free WiFi and a projector. Home baked cakes are for everybody.