Wrågården

Falköping
Live inside an elk among the elks
Stay among the animals inside an elk cottage, specially built for Wrågårdens elk and deer park. Something really unique for both children and adults. The elk cottage has a lot of zany, exciting details that make your stay there something else. Outside the elk cottage is a BBQ area with views of the elk and deer park.
Get up close and eyeball the animals
There's loads to do at Wrågården. Walk around at your own pace in the compound and watch the elk, deer, sheep and bison grazing. Want to get closer to these exciting animals? Go on a bison safari! The park also has a football golf pitch where you can challenge friends and family to a match. Paintball, five-a-side or whisky and beer-tasting sessions can be arranged for larger groups.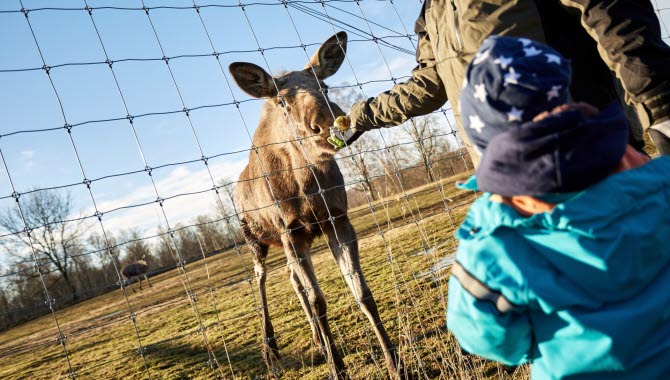 Photographer: Jonas Ingman
Eating experience
A restaurant at the park serves food by arrangement, and is open for groups of 20 or more people. If things are already up and running, smaller groups can also be booked. Swedish meat and high-quality ingredients ensure that the food you're served is delicious. You can also buy a BBQ basket and cook your own dinner if you prefer.
Photographer: Jonas Ingman @ Bruksbild
Organic farm
The farm is run on organic principles and breeds its own animals. Wrågården products, such as bison meat, are found in A Taste of West Sweden's selection of fine foods The certification is reserved for restaurants, producers and farm shops which offer sustainable and genuine west Swedish products and fine dining, all based on local seasonal produce.