Hotell Wettern

Karlsborg
Hotel with breathtaking views of lake Vättern
Book your accommodation or conference at Hotell Wettern in Karlsborg, beautifully situated by Sweden's second largest lake. Fishing, bike tours and panning for gold are all easily accessible in the countryside, while you are still close to shops, beaches and restaurants in the town.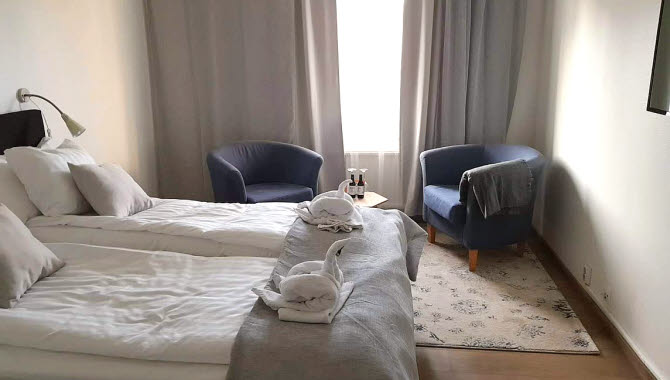 Photographer: Hotell Wettern
Shades of lake Vättern reflected in the interiors
Hotell Wettern was completely refurbished in 2019 and now offers 80 beds in 40 rooms, with colour schemes inspired by lake Vättern. All rooms are equipped with an en-suite bathroom, TV and WiFi, and breakfast, evening meals and parking are included. Guests have access to the restaurant, pub, sauna and massage, conference centre, rooftop terrace, garden and outdoor barbecues. The hotel also has 8 rooms each with a private entrance for guests with a dog.
Conference and events
Hotell Wettern has four conference rooms for between 8 and 70 participants. There is a large dining room and a pub which are ideal for parties and ceremonies, team-building and company kick-offs.
Fishing, cycling, riding or panning for gold
The hotel's location on the shores of lake Vättern allows a wide range of exciting activities for both adults and children. Hotell Wettern can help you organise fishing, riding, cycling packages, crayfishing, panning for gold and adventure tours at the Karlsborg fortress.