Nääs Fabriker Hotell & Restaurang

Tollered
Stay overnight, eat and shop in a genuine mill setting
Stay in a beautiful setting next to lake Sävelången in a cotton mill from the 19th century. The hotel has modern, comfortable rooms as well as good food and friendly service. There are many things to do in the area around Nääs Fabriker, including guided tours and shopping.
Accommodation with lake views
Nääs Fabriker Hotell & Restaurang has grand rooms with ceilings over five metres high or rooms with views over the lake from a rooftop terrace. Go on a historical tour to learn more about the eventful history of the mill, stop and enjoy some coffee and cake or go shopping in the area.
Spectacular dining room
Enjoy a tasty breakfast, lunch or dinner in the spectacular dining room. It has large surfaces tastefully divided with textiles hanging from the ceiling and a beautiful glass veranda facing the lake, creating a very special atmosphere.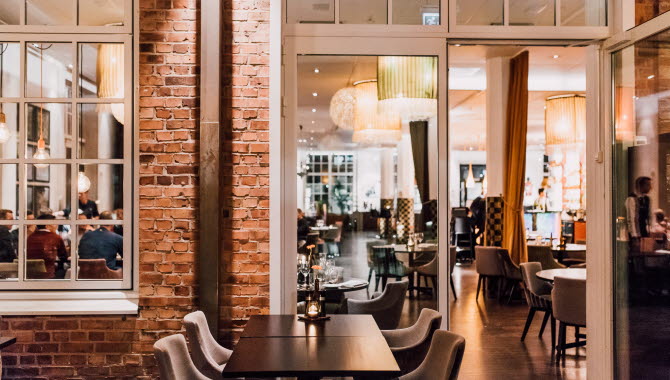 Photographer: Annie Hyrefeldt
Spa facility by the lake
Guests have free access to the spa facility on the lakeside, just next to the hotel. Enjoy the variety of saunas, warm outdoor pools with piers into the lake and lovely lounge settings for relaxation, both outside and inside.
Close to Gotaleden trail
The hiking trail Gotaleden starts right in the centre of Gothenburg, and stretches 71 kilometres all the way to Alingsås. It passes just outside Nääs Fabriker, so it is easy to take a hike during your visit.
Photographer: Jonas Ingman