VANN Spa Hotell & Konferens

Lysekil
Relaxing spa hotel by Gullmarsfjorden
VANN Spa Hotell & Konferens is beautifully situated in a nature reserve next to Gullmarsfjorden in Bohuslän, West Sweden. Shrug off the stress and fatigue, and exchange it for harmony, refreshment and new energy in a place that embraces water as the source of life. The evening promises a delicious dinner in the restaurant and a comfortable bed to ensure a good night's sleep.
Physical and sensual experience
The spa ritual at VANN is both a physical and a sensual experience. The perfect temperature of the large pool, Stora Tjärnen, and the small pool, Lilla Tjärnen, will fill you with peace while you gaze out over Gullmarsfjorden. VANN is a peaceful spa with still water. For those who prefer a jacuzzi, you can book a spa bath in the treatment area. Feel your body filling with new life as the bubbles, water jets and light therapy give all their benefits.
Photographer: www.vann.se
Active rest
There are various activities to take part in as a complement to the different forms of treatment. Enjoy stunning views from the outdoor gym, go for an invigorating walk or start the day with a yoga session on the pier in good weather. The menu of activities also includes SUP, kayaking, climbing and other sports.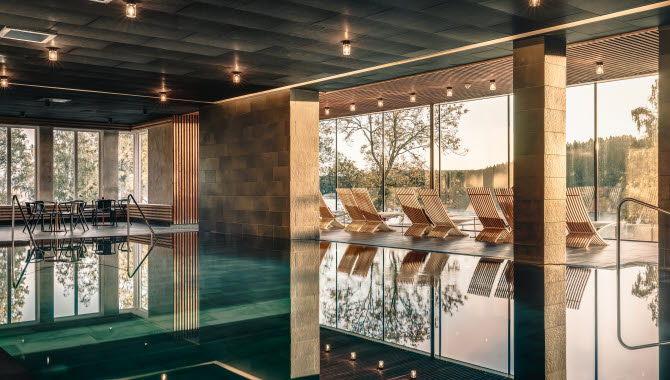 Local delicacies
Enjoy delicacies from the sea, tasty inland meats and delicious greens. The VANN restaurant is certified as organic and approved by A Taste of West Sweden. The certification is reserved for restaurants, producers and farm shops which offer sustainable and genuine west Swedish products and fine dining, all based on local seasonal produce.
Active meetings next to the sea
Vann Spa Hotell och Konferens has 16 well-equipped conference rooms and a large number of attractive conference and activity packages. Hiking, yoga, kayaking, SUP and cooking suit active conferences as well as more relaxed spa conferences.
InfoPoint
Would you like more ideas about what you can find nearby? NN is a certified InfoPoint where you can pick up brochures and maps and knowledgeable staff can help with your questions about the area.