Skulptur i Pilane

Tjörn
Art, stone circles and grazing sheep
Join a unique art experience. Every summer a sculpture exhibition with world-leading artists is arranged in the middle of the Bohuslän cultural landscape, with its grazing sheep and traces from the Stone Age. Sculpture in Pilane is a wild experience for all ages.
Anna and the West Sea
The exhibition area is more of a living landscape than a traditional park, and you can either walk where the fancy takes you or follow the beaten paths over meadows and hillsides. From the hills you have a fantastic view of the West Sea and the Bohuslän archipelago. One of the largest and most beautiful sculptures is found here, "Anna" by Jaume Plensa, which has become a landmark for the whole of the West Coast and is now permanently located in Pilane.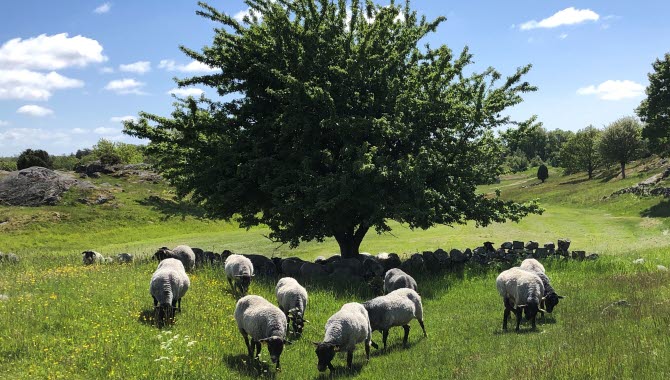 Photographer: Peter Lennby
Pilane - among the top ten in Europe
New works of art are shown every summer. Since 2007 Sculpture in Pilane has shown art by Erwin Wurm, Tony Cragg, Magdalena Abakanowicz, Jaume Plensa, Alice Aycock, Bernar Venet and Laura Ford, among others. In 2016 the Guardian, a major British newspaper, nominated Sculpture in Pilane as one of the ten best sculpture parks in Europe.
Photographer: Turistrådet Västsverige
InfoPoint
Would you like more ideas about what you can find nearby? Pilane is a certified InfoPoint where you can pick up brochures and maps and knowledgeable staff can help with your questions about the area.