Destination Bokenäset

Uddevalla
Relaxation, food and scenic accommodation by Koljöfjorden
Destination Bokenäset lies in the heart of Bohuslän, with wonderful views over Koljöfjorden. Everything you need to relax is here. Come to the restaurant and enjoy some delicious food. Immerse yourself slowly in the lovely jacuzzi on the terrace. There is a newly made bed ready for you in your room when you start to feel sleepy.
Open plan apartments
Destination Bokenäset has open plan apartments with a terrace or balcony and kitchen, close to the sea and the lovely countryside. As well as boasting a beautifully situated hotel, Bokenäset also has a unique recycling plant that attracts visitors from all over the world.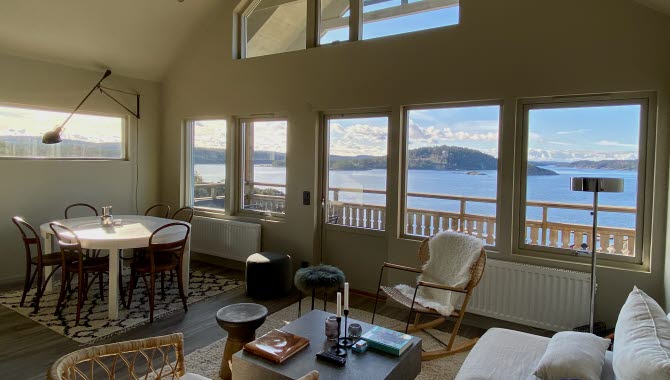 Relax in the spa or go for adventure
Relax in the sauna and enjoy the hotel's famous panorama view or sink down into the jacuzzi on the terrace. There is also a swimming pool, a sea sauna and a gym. Take the chance and try out ecological skin care from Mette Picaut and the hotel's cleansing package, the Sauna Basket. Bokenäset offers other activities, such as yoga and jogging. The hotel has boats and kayaks for those who are enthusiastic to get out to sea.
Seasonal ingredients all year round
In the hotel restaurant, Västersalt, you can enjoy  beautifully prepared food as you gaze out over Koljöfjorden's clear waters. The kitchen team creates culinary delights based on seasonal ingredients and with nature as inspiration.
Conferences by the sea
Destination Bokenäset has a conference package with good food, comfortable beds and a relaxing environment next to the sea. Combine this with adrenaline-fired mountain biking or kayaking, then finish off with a sauna overlooking the sea.
Guest Harbour
If you are arriving at Destination Bokenäset by water you can take advantage of the hotel's guest harbour, which offers access to electricity, drinking water and toilets. Naturally you are welcome to visit the restaurant, where you can also buy takeaway food to eat at the jetty or on the cliffs.