Cykelaptit

Falköping
Road cycling with a expert, on lovely roads in Skaraborg
Cykelaptit are specialists in road cycling, run by former professional cyclist Glenn Magnusson. They offer organised cycle trips for anyone wanting to try out the lovely roads in Skaraborg's beautiful surroundings.
A day of cycling led by an expert
The plateau mountains of Mösseberg and Ålleberg, just under 300 metres above sea level, offer steep slopes and hilly terrain, as well as forest trails and open landscapes between the mountains. A fine network of asphalted country roads with little traffic awaits – the perfect conditions for a great day of cycling.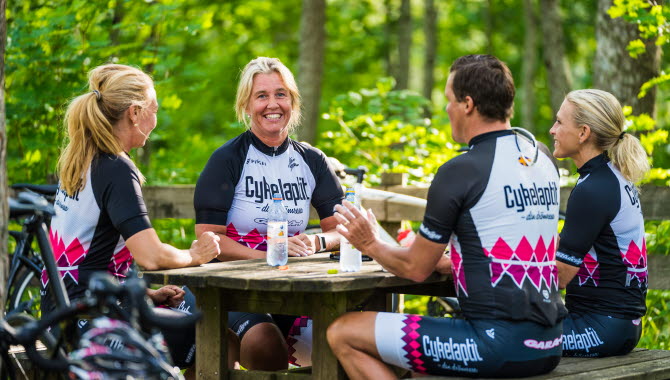 Photographer: Jesper Anhede
The cycle routes are arranged according to your own requirements regarding length and difficulty level, and can start from anywhere you choose in Skaraborg. Former pro-cyclist Glenn Magnusson, who also runs Cykelaptit, will be your guide for the day, and he will of course also teach you cycling basics – like how to cycle in a group.
Local food and unique experiences
Falköping is in the middle of Västergötland, in a rich agricultural area, where the earth has been tilled for many thousands of years, and where local food takes its rightful place. Why not stop for a lovely fika during your ride, or a tasty meal to replenish your energy after the day's exertions, with fresh ingredients from our local larder?
This area has plenty of historical and natural experiences to tempt you as well. In the countryside you'll find stone age burial sites, and ruined monasteries at both Gudhem and Varnhem. Kata Farm is also situated there, where the ruin of Sweden's oldest church, built in the time of the Vikings, has been found. And don't miss Lake Hornborga, one of Europe's most important waterfowl habitats, where thousands of cranes come every spring to dance.
Photographer: Roger Borgelid